NEED TO KNOW
Double Diamond Details
Game Studio
IGT (Wagerworks)
Cheap to play with a very small minimum stake required

Captures the spirit of the old classic slots of land-based casinos

Potential high payout

Double Diamond offers plenty of ways to win
There is no bonus round or any bonus features at all really, unless you count the multiplier
GAME VISUALS
Doble Diamond Slot Gallery
ALL ABOUT THE GAME
Double Diamond Review
This is a classic sweepstake casino slot that gives the feeling of being in an old-world brick-and-mortar casino. In fact, the Double Diamond slot is actually a staple at many land-based casinos and comes in various versions, including the Double Diamond 5X slot machine that has five reels and offers more ways to win. However, many online gamblers seem happy with the basic Double Diamond three-reel version that IGT has produced.
The slot can be played on any device using any major operating system. If you are a member of a mobile casino with a game selection that includes IGT slots, you may well find it there. The Double Diamond slot is now available at a wide variety of online casinos and can usually be found by simply searching for it by name or browsing through the slot games collection.
Complete with LED lighting, the Double Diamond slot machine features high-quality graphics, excellent audio and smooth gameplay. While these features tend to give Double Diamond a modern feel, the simplicity of the game along with the classic game symbols, such as sevens, bars and cherries, definitely give it the authentic look of a traditional slot machine game.
Double Diamond Slot Machine Features
The Double Diamond slot game has a multiplier feature of up to four times the stake, while the Return to Player (RTP) percentage is variable, between 85 and 98 percent. The game features a classic three-reel layout with a single payline. There is a maximum stake in this game of three coins, but the maximum awarded prize is 12,500 coins, so it will certainly have a wide appeal to your sweepstakes casino experience.
The game, being a simple three-reel slot, does not have a lot to offer in the way of bonus features, but many players will like the fact that it has a Wild multiplier symbol. This is a great help in creating winning lines as it substitutes for all other symbols in the game, increasing the chance of a winning line. Although the Double Diamond slot only has one payline, the game does offer the player 27 unique ways to win through the various combinations of symbols on the reels.
The slot also has high volatility, which means that while winnings may not be frequent, they are likely to be substantial when they do arrive. The variable RTP means that those who commit to the highest stakes are likely to earn the highest percentage. In most cases, the RTP of Double Diamond is averaged to 95.44%. As you would expect from International Game Technologies, the graphics are very high quality.
Double Diamond Casino Slot Gameplay And Symbols
The symbols in this game include the classic slot symbols like the "BAR", the number 7, triple and double BAR symbols, an "ANY BAR" symbol and the classic cherries symbol, which give the slot a very old-school, traditional feel. The Double Diamond logo is the Wild, which is the highest-paying symbol in the game and can pay up to 12,500 coins if it appears three times on the winning payline.
As with most classic slot games the gameplay is extremely simple. You just need to decide on the amount you're going to stake and spin the reels. As there is only one payline, it is a straightforward case of win or lose on each spin.
You can also select the auto play feature rather than spinning the wheel manually if you would like to enjoy a slightly faster gaming experience. The gameplay is the same whether you are playing the free version of Double Diamond or the paid version.
Rewards are activated when a combination of three similar symbols align on the single payline, with the Double Diamond logo Wild substituting for any other symbol. The wins are granted in the form of multipliers, which are then applied to the stake that has been placed.
Double Diamond Slot Machine Bonuses
One drawback of the Double Diamond slot machine game is that it does not have a bonus round or any real bonus features to speak of. It does, however, have a multiplier that acts in a similar way to a bonus in that it does give players the chance to win a little something extra.
The Double Diamond Wild symbol acts as a multiplier when it appears on the winning payline. The actual multiplier depends on the number of Wild symbols that land on the payline. One Wild symbol means the original stake is multiplied by two. If you are lucky enough to land two Wild symbols, the stake is multiplied by four.
Tips For Playing Double Diamond Casino Game
As we have already stated, Double Diamond is not hard to play. You just need to choose your stake and spin the reels. Remember that the higher your stake, the higher the RTP is. However, you should also remember that this is a game with high volatility, so you might end up waiting a while for a win. In terms of the symbols you are looking for and how they pay out, you are generally looking at landing three of a kind to win with each symbol worth something different:
Double diamonds: 1,000x your stake
Red seven: 80x your stake
Purple triple bar: 40x your stake
Pink double bar: 25x your stake
Turquoise single bar: 10x your stake
Combination of bars: 5x your stake
You can also get 2x your stake when you land one cherry, 5x with two cherries and 10x with three cherries. Don't forget you can also make a line using the Double Diamond symbol as a Wild, which will result in a multiplier. Make a line of three symbols with one wild Double Diamond symbol, and you will earn double the usual line payout. Make a line with two Double Diamond symbols and get four times the typical payout.
You can play using GBP, USD, CAD and EUR, depending of course on where you are playing and the currencies that your online casino allows you to use. Your stake on this slot can be as low as 0.02 or as high as 5. The minimum stake in USD is 25 cents, and the highest stake allowed will depend on where you are playing, but it can go as high as $5, $10 or even $100 in high-stake areas.
This means that if you win in the jackpot, you can take home as much as 12,500 coins. As is usually the case with online slots, the payout chart is displayed on top of the screen, so players can see exactly which combinations pay them and which ones do not result in a payout.
YOU MIGHT ALSO LIKE
Games Similar To Double Diamond
Double Diamond Sweepstakes Slot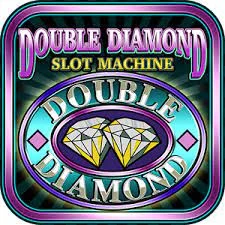 4.425
Published on 13 Sep, 2023
For many players, the main attraction of playing online slot machines is the thrill of winning, and with this game, there is the chance of winning up to 12,500 coins. So why play Double Diamond slot machine for free? The answer to that will depend on you. Some players simply like to play for fun and see what they "would have won" or see how long it takes them to hit a winning line. Many players also just like to play for free to try out a new game and see if they like it and understand how the game works.
Admittedly with Double Diamond, the game is quite straightforward and easy to play, so it may not be that beneficial to play it simply to see how it works, but it never hurts to have a few spins on the free game and see how much enjoyment you get out of playing it. You can play for free for as long as you want, or you can simply give it a few spins for free before deciding to switch to paid gameplay.
Jonathan Hill

Review Author
Yes, you can play Double Diamond online at a wide range of casinos, either for free or with real money. Many casinos will allow you to play for free without registering for an account. To play for money, you will of course have to make an account and fund it.
There are many casinos that offer the Double Diamond casino game. You can search for it by name at most online casinos, and if you are browsing through the provider list, you will find it under International Game Technologies (IGT).
Most casinos that list Double Diamond will allow you to play it either in the free mode or the paid version. See our list of casinos above that offer the chance to play Double Diamond for fun with no registration and no download.
Yes, Double Diamond can be played on mobile devices, so you can play Double Diamond at your preferred mobile casino as long as it offers the IGT library of slot games on mobile devices. The game can be played on smartphones and other mobile devices. It is compatible with both iOS and Android devices.
You can play the Double Diamond slot machine game online, so there is no need to download any software, unless of course you want to download the app for mobile play.
Yes, there is a Double Diamond slot app, which can be downloaded from the Google Play store for free. There is also a Triple Double Diamond Slots Pro Edition available in the Apple App store, but there is a small charge for it.