NEED TO KNOW
Nitropolis 3 Details
Expanding reels that range from 4,096 to 1 million

Compatible with all devices

Really good ratings
95% RTP
GAME VISUALS
Nitropolis 3 Slot Gallery
Nitropolis 3 By ELK Studios Slot Overview
Released in March 2022, the latest Nitropolis game is back on your screens by popular demand. The talented team at ELK Studios launched Nitropolis 3 with the goal of making it bigger and better than before.
The same motley crew is on the run from Sergeant Nitro Wolf, who's chased them out of Nitropolis. Traveling in their tricked-out blimp, the gang finds a safe harbor in a laid-back location. The slot comes with 6 reels and 4 rows – but get ready for a wild ride as those rows continuously expand in tandem with avalanche drops.
Packed with exciting features in and out of the base game, Nitropolis 3 is set to blow its predecessors out of the water. The win potential is better than ever, thanks to expanding reels that range from 4,096 to 1 million ways to win. Land a prize of up 50,000 times your bet, despite a slightly dicey RTP of 95%.
Nitropolis 3 Slot Features
There are two ways to boost your wins in Nitropolis 3. One way is to trigger the bonus features, and the other is to land special symbols during the base game. We discuss bonus features a little further into this review. Here we put the focus solely on slot features – and there are a lot of them:
Avalanche reels – When you form a winning combination, the round isn't over. Instead, more symbols will fall down from the top to fill the gaps, giving you the chance to win again and again.
Expanding grid – Get 4 consecutive avalanche drops to expand the grid up to the maximum of 8 rows. Each drop adds a row until the winning combos dry up. Increasing rows will boost your ways to win.
Giant symbols – On any given spin, two reels could merge to produce a single oversize symbol that could result in multiple winning combinations.
Nitro reels – There are small and big nitro reels. Small ones cover two reel positions, while big ones cover six symbol positions. It's within this feature that you can unlock the maximum 1 million wins ways.
Redrop – This is exactly what it sounds like. When you land the Redrop symbol, all bonus and nitro symbols stick to the grid while the nitro feature symbols redrop for another chance at a win.
Both Ways – While the slot generally pays from left to right, when you land the Both Ways symbol you'll get double payouts as right to left matching combos are counted too.
Nitro Match – If you get Nitro Reels on the same or adjacent reels to the Nitro Match display, you'll generate a matching pay symbol.
Nitro Upgrade – Land the Nitro Upgrade symbol on the same or adjacent reels to get extra symbols
Nitro Wild – Land the Nitro Upgrade symbol on the same or adjacent reels and have them replaced by wilds
Nitropolis 3 Theme And Graphics
Nitropolis 3 retains its distinct steampunk vibe, but this time the Nitro Gang has taken themselves off to a Caribbean island – throwing the theme into some very interesting contrasts. Your hosts are the same four-cat, dog, and mouse combo from the previous two games.
They're kitted out in an array of sunglasses, robes, and hats, daring anyone to challenge their importance. Having traveled to a paradise island on a blimp, they're all set for a new adventure and the ensuing bounty. The expanding grid is littered with a series of symbols.
These range from basic spray-painted card suits, to intricate depictions of each slot mascot. The medium-paying symbols are represented by gilded "Rogue Rats", "Gritty Kitty", "Dirty Dawgs", and "Pug Thugs". There are also several icons that indicate special features, like Wilds and Bonus symbols. Altogether, the slot design is immaculately put together, drawing players into the theme with humor and attention to detail.
Gameplay And Special Symbols In Nitropolis 3
Nitrolopis 3 presents players with a very busy grid that expands into more activity when certain symbols are activated or during the bonus game. There's a lot going on, and you're very likely to experience a certain level of confusion in your first few spins.
Aside from the regular symbols represented by the usual crew of Nitropolis characters, there are also special symbols designed to boost your spin result. We broke down each special feature (that's tied to its own special symbol) in the section above. Check out our explanation for Redrop, Both Ways, the full range of Nitro symbols, and more.
Nitropolis 3 is made up of fast-paced gameplay, so it's important to keep your eye on the changing grid so you don't miss out on any of the action. We would suggest starting things off with a couple of low-cost practice spins until you get the lay of the land. Once you decide that you want to commit to the chaotic fun, you can choose to set your bet at anything from 0.20 to 50.
Nitropolis 3 Bonus Features
No slot is truly complete without a slew of bonus features to keep players on the edge of their seats. Metropolis 3 was designed with special features in mind, adding layer upon layer of thrilling gameplay that conceal the game's biggest wins. On top of all the special features listed above, here's what else you can expect:
X-iter – this is a trademarked feature that allows players to take control of their spins. Options range from five different game modes, like a 2x bet with double the chance to trigger the bonus game, or a 500x bet Super Bonus with all eight rows and Both Ways activated.
Bonus Game – feel free to consider this the pièce de résistance of Nitropolis 3. You'll need three or more bonus symbols to trigger the game. These are easily recognized with the word 'bonus' emblazoned across the symbol. Once activated, you'll receive a minimum of eight free spins that are played across a fully extended grid with all Nitro Reels made sticky.
Super Bonus Game – You can also trigger an amped-up version of the Bonus Game with a combination of bonus symbols and super bonus symbols. This will also be played across the extended eight-row grid, but you'll also have the Both Ways feature active throughout.
Average RTP And Variance For Nitropolis 3
Nitropolis 3 is a relatively high volatility game, scoring a 7 out of 10 on ELK's volatility scale. While not the highest when compared to several other slots out there, players should still expect their fair share of losing spins before they hit on a base game win. This comes down to the hit frequency, which sits just below 20%.
Don't expect huge wins without successfully engaging the special features, so you really want those special symbols to land. The game's 95% RTP is a touch on the low side, but don't let this put you off. Nitropolis 3 has plenty of positive points to make up for this. Get yourself into the Bonus Game to experience plenty of wild wins, and perhaps even the slot's maximum potential of 50,000 times the bet – which is 5 times more than the two previous installations of this game.
Nitropolis 3 Slot Tricks
The thing about regulated and fair slot games like Nitropolis 3, is that they're infallibly based on luck and probability. Because they're built on a mathematical algorithm, there's really no way to sway the game in your favor. Anyone who suggests that there are some special tricks to guarantee yourself a win is definitely not someone you should be taking advice from.
What we can tell you is that the game's biggest cash prizes are hidden behind the bonus game. That's why it might pay to stick around long enough to trigger the bonus round, where you're more than likely to recoup your bet spend and make a nice chunk of change on top. Based on our testing, even lower-value spins can generate big bonus wins.
This means a low-bet, long-term strategy might mean good news for lower-budget players. High rollers be warned, you'll experience your share of expensive dry spins before you hit the good stuff.
YOU MIGHT ALSO LIKE
Games Similar To Nitropolis 3
Nitropolis 3 Sweepstakes Slot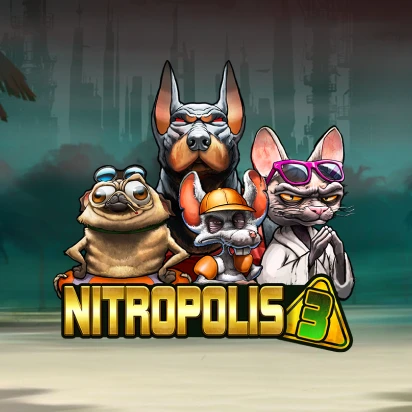 4
Published on 13 Sep, 2023
All in all, ELK Studios did a great job on Metropolis 3 – it really is a fantastic slot, both in appearance and functionality. The design is incredible. There's so much to look at you're unlikely to get bored. But this isn't a rave review. The gameplay is quite confusing and it took several spins for me to be sure exactly what was going on. Base game wins are somewhat infrequent, and don't pay out as much as you'd like, considering the wait to get there. Despite these two not so great points, we'd recommend the game anyway because the bonus game brings so much to the table. Even on a low value spin, the built-in special features found in Nitropolis 3 could see you walk away with a lot more cash you arrived with. Nitropolis 3 is packed with piles of special features and two versions of the Bonus Game, leaving you spinning within a hive of activity and with plenty of opportunities to play outside the base game.
Jonathan Hill

Review Author
ELK Studios is well known for producing quality games, and you can search for the studio directly at all online casinos or social casinos. But if you're looking for more of Nitropolis 3, then we'd advise you to check out the previous two games in the same series.
You'll need to look out for a social casino or online casino that's legal in your state. Once you've done that, you'll also need to check that it's partnered up with ELK Studios as a provider. If it has, you're sure to find Nitropolis 3 available to play.
Nitropolis 3 doesn't have an app, but most demo sites and online or social casinos will allow you to try out the game for free. In most cases, you won't even need to set up an account, you can just click, tap and try.
Once you find an online casino to play at, we recommend registering and accepting your welcome offer. This isn't a promo code, but it will give you a pile of bonus cash to try out the game risk-free.
Nitropolis 3 is already live. It was released in March 2022, so you can try it out right now!
Check out the 'promotions' section of your preferred online casino. There are always free spin and deposit offers available for use on any or selected slots. Most casinos will also give away bonus offers to loyal players, which you can use instantly on any game.