Best Sweepstakes Casinos That Accept Crypto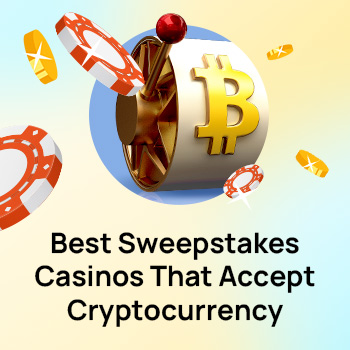 Finding A Cryptocurrency Sweepstakes Casino
Mostly, these gaming platforms look like every other online casino. Players will find a great selection of slots and other sweepstakes casino games. But the key difference lies in the payment section, as a cryptocurrency sweepstakes casino allows users to purchase Gold Coins via Bitcoin and other popular altcoins.
Accepting cryptocurrencies is a big deal in online gaming, so a crypto sweepstakes casino will often have several promotional labels for it. This information is highlighted on the homepage and in the 'About' section.
However, determining if a sweepstakes casino accepts cryptocurrencies is just half the equation. More important is finding out if the platform is a reliable cryptocurrency sweepstakes casino. A good tip is to look out for those that support one or more top cryptocurrencies, such as:
Bitcoin (BTC)
Bitcoin Cash (BCH)
Ethereum (ETH)
Litecoin (LTC)
Benefits Of Cryptocurrency VS Other Payment Methods
Cryptocurrencies offer many advantages over other payment methods, which is why they are popular in finance. Firstly is the convenience of payments. With a crypto wallet and an associated app, you can easily purchase Gold Coins directly from your mobile device.
Moreover, due to the nature of the blockchain, these purchases are carried out peer-to-peer, eliminating the need for intermediaries. These intermediaries are often the reason for delayed transactions and high fees when using bank transfers or other traditional payment methods. Additional benefits of the peer-to-peer nature of cryptocurrencies are speed and low or negligible fees.
In addition, using cryptocurrencies eradicates one of the primary downsides of the online casino industry – information insecurity. Players don't need to provide any personal banking details when using cryptocurrencies. Only your wallet address is needed, so there's no security risk when making purchases or withdrawals at cryptocurrency sweepstakes sites.
Better user privacy

Excellent payment security

Speedy purchases and redemptions
Not available at many sweepstakes casinos

High volatility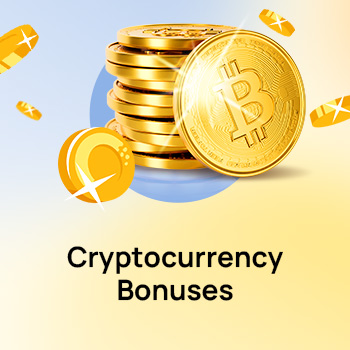 Best Cryptocurrencies Sweepstakes Casino Bonuses
Bonuses are a staple at sweepstakes casinos, and you can expect the same when playing at crypto sweepstakes casinos. In addition to the common bonus variants, you'll also find several promotions unique to the sweepstakes model.
Crypto Welcome Bonus/Sign-Up Bonus
The welcome bonus is the first offer players get access to and one of the most mouthwatering. Generally, you can receive this bonus after registering at the casino. At sweepstakes casinos, this is usually a sign-up bonus with no deposit required. It allows you to get in on the action and enjoy games for free. For example, Big Fish Casino offers a great bonus of 100,000 virtual chips for newly registered players.
The bonus may consist of only non-redeemable currency, but it may also include redeemable currency, in which case, you could also rake in real money prizes.
First Deposit Crypto Bonus
Many sweepstakes casinos provide players with more value upon their first purchase. This can combine Gold Coins (GC) and Sweeps Coins (SC). It can also be a discount on your purchase. No purchase is necessary when playing at these social casinos, so this bonus incentivizes you to buy a Gold Coins package.
Sweepstakes Crypto Contest Bonus
One of the outlets through which players can get free coins is contests. Sweepstakes contests are often available on the social media pages of these casinos. The best part about this kind of promo is that you'll often be rewarded with Sweeps Coins. You can use these to play cash games and redeem your winnings for real prizes.
Loyalty Crypto Bonus
Like most online gaming platforms, social casinos that accept crypto reward loyalty with bonuses according to a loyalty program. If you've ever played at a real-money online casino with a loyalty program, the experience is pretty much the same. You play games, earn points, and exchange them for virtual currencies and other perks at the casino. The value of bonuses increases as you advance.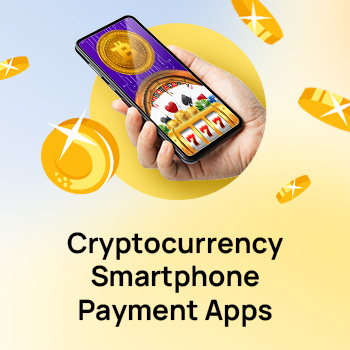 Cryptocurrency Smartphone Payment App
Cryptocurrency payment apps allow users to make purchases and redemptions easily at sweepstakes casinos. These applications also provide better access to crypto wallets and the latest developments in the world of cryptocurrencies. Here are some of the top ones available for casino gaming:
Bitpay
This reliable crypto payment app provides secured payments from the comfort of your smartphone. Bitpay has different levels of security and uses robust encryption techniques for transactions. More so, the app supports a host of cryptocurrencies, including BTC, BCH, ETH, LTC, DOGE, etc.
Cryptopay
As one of the most popular crypto payment apps, Cryptopay makes it easy for users to purchase cryptocurrencies with credit cards at excellent rates. Cryptopay also allows players to access their cryptocurrency accounts from anywhere in the world with a smartphone.
Coinbase
Coinbase facilitates straightforward transactions with advanced features that make it the perfect app for both beginners and experts. This platform is open to Android as well as iOS users.
How To Purchase Gold Coins Using Cryptocurrencies
Although no purchase is required to play at sweepstakes casinos, players are free to buy Gold Coins. Note that you can only buy Gold Coins. Sweep Coins are not for sale, but you can get them as a side benefit of your purchase or from other free bonuses and contests at the casino. The process of making a purchase is similar across most sweepstakes casinos.
Register on the site.
Click the 'Buy Now' tab to reveal the available Gold Coins packages. Packages can be as low as $0.49.
Select your preferred package.
Choose a cryptocurrency payment method from the list provided.
You'll be redirected to your payment app, from where you can complete the transaction. The casino will provide you with a beneficiary crypto wallet address.
This is also the perfect time to input any relevant promo code to activate available bonuses. Note that purchases via Gold Coins are processed instantly and without hidden charges.
How To Redeem Sweeps Coins For Real Prizes At A Cryptocurrency Sweepstakes Casino
Due to the adoption of the sweepstakes model, cashing out in these social casinos is a bit different from regular gaming platforms. You can only redeem Sweeps Coins when playing at sweepstakes crypto sites.
Head to the cashier section and click "redeem."
Enter the amount of Sweeps Coins you'd like to redeem.
Confirm the transaction.
The process is straightforward, but cash prize redemption usually comes with some conditions. For starters, you need to verify your identity by submitting some documents to the casinos (a valid ID and proof of residence). Also, these casinos will only allow you to redeem after accumulating a certain number of Sweeps Coins. This is often 100 SC, like in the case of Chumba Casino, but it can be as low as 50 Sweeps Coins.
You can only make one redemption request daily, and withdrawals are processed to the deposit method by default. So, if you haven't purchased with cryptocurrency, you may be unable to redeem funds to your crypto wallet.
Verify Your Account
It's natural for players to want to redeem as quickly as possible. This need for fast redemptions is precisely the reason for the adoption of cryptocurrencies. However, for first-time players, verification is necessary at the best sweepstakes casinos. This is a safety precaution to ensure the casino is paying the right person. It's also vital in determining the legal age and location of players, in line with standard gaming laws.
Generally, you must tender one or more of these documents:
Driver's license
Passport
National identity card
Utility bill
Bank statement
Verification is a one-time affair. However, the casino can request additional documentation for large redemptions over a certain threshold. You can submit the necessary documents through customer service.
Cryptocurrency Redeem Processing Time
As stated above, crypto sweepstakes casinos must verify players' identities before processing withdrawals. On average, verification often takes 24-48 hours, after which cryptocurrency-based transactions will be processed swiftly. Subsequently, you can expect Bitcoin withdrawals to clear immediately or no later than a few minutes.
Other Sweepstakes Casino Payment Methods
Cryptocurrency As A Purchase Method
The two major propellants of the growth of the online gaming industry are its entertainment value and its potential to make wins. For the latter, secure and convenient transactions are essential, and cryptocurrencies are here to the rescue.
Cryptocurrencies are a relatively modern concept compared to credit cards or bank transfers. However, Bitcoin and Ethereum have quickly risen to the top of the finance chain. They provide solutions to some of the prior bottlenecks experienced by gamers. Overlooking the volatile nature of these digital coins, they are a solid payment method for online gaming.
Currently, some sites feature only Bitcoin. Others diversify with a long list of cryptocurrency options. As more players jump on the crypto train, more of these crypto sweepstakes sites are likely to spring up.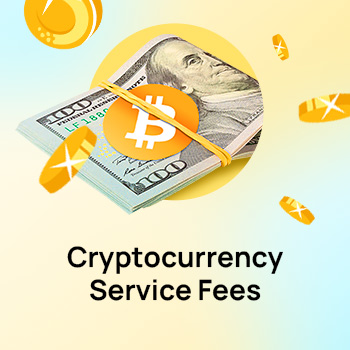 Cryptocurrency Service Charges At Social Casinos
Casinos often charge players for services, including purchases and redemptions. Some impose charges for large transactions, while others charge for inactive accounts. These service charges contribute to the casino's profits. One of the top benefits of using cryptocurrencies is the reduced charges in comparison to what is obtainable with other payment methods.
Cryptocurrency fees are often negligible, if at all present. In addition, cryptocurrency exchanges often impose charges, not the casino.
Inactivity Fee
Some crypto sweepstakes casinos charge dormant account holders monthly or yearly. Not every casino applies inactivity fees, and those that do will indicate it under their terms and conditions. An inactivity fee motivates players to maintain an active account or revive an already dormant one.
Purchase Fee
Purchasing Gold Coins with cryptocurrencies is free. This is also the case at most regular online casinos, where deposits do not attract any charges, and the amount reflects instantly on your account. With a reliable crypto wallet, players can purchase Gold Coins without worrying about hidden charges.
Redeeming Fee
Prize redemption differs from purchases as these transactions may attract some fees. Withdrawal fees depend on the particular gaming platform and the cryptocurrency in question. Fortunately, these charges are often negligible compared to fiat payment methods. You can find the fees associated with each payment method on the withdrawals page or under the terms and conditions.
Support For Crypto Users At Sweepstakes Casinos
Customer support at sweepstakes casinos can assist players with information and clarification whenever needed. If you're not well-versed with crypto gaming, contacting the support agents is a great way to get ahead of your cryptocurrency-based purchases and redemptions. Email is the standard customer service channel at these platforms, and most casinos have a contact form where you can enter your message to be sent directly to the casino.
Live chat is one of the most reliable ways of communicating with the support team. This option isn't available at many sweepstakes sites, so it's a primary highlight where available. Live chat allows real-time communication and instant responses and is often available 24/7. Another contact method you may find at crypto sweepstakes casinos is a call line. This is great if you prefer to speak directly to a casino representative.
Cryptocurrency Sweepstakes Casinos
4.3
Published on 15 Sep, 2023
Although they are yet to become widespread among US players, they're growing increasingly popular thanks to crypto-enabled features. The benefits of this mode of payment range from speedy transactions to anonymity to better security.
Sweepstakes already offer players in the US access to online casino gaming that is otherwise restricted by law in many states. The idea of a Bitcoin casino also brings a modern outlook to these social casinos, making them appealing to a wider class of gamers.
Jonathan Hill

Review Author
Not all social casinos accept cryptocurrencies. Where available, you'll be able to make purchases and redeem prizes with this method. Some of our recommended cryptocurrency sweepstakes casinos include Stake.us, Big Fish Casino and Vegas7Games Casino.
Global Poker does not support cryptocurrencies at the moment. It allows several other payment options, such as credit cards, Skrill and bank transfers. Cryptocurrencies are still growing in popularity, so there's no reason to think that Global Poker might not accept cryptocurrency payments in the future.
Using crypto wallets to purchase Gold Coin packages is very safe. These blockchain-enabled coins eliminate intermediaries and third-party access to bank details. It's always worth making sure you educate yourself about cryptocurrencies before making payments, but they're definitely a trustworthy payment method for making purchases at sweepstakes casinos.
Our list of top crypto sweepstakes casinos includes the best on the market. They are not only reliable but also offer the biggest bonuses, an array of exciting games and, of course, popular cryptocurrencies for payments. Stake.us, Big Fish Casino and Vegas7Games Casino are some of the best options for cryptocurrency sweepstakes casinos.
Unlike regular online casinos, these social gaming outfits are very much legal in most parts of the US. This is because sweepstakes casinos don't accept real money bets. Instead, the gameplay is funded by Gold Coins and Sweeps Coins. Be sure to check the rules in whichever state you reside in before starting to play at a sweepstakes casino.
The best Bitcoin sweepstakes casino is a matter of preference. The recommended sweepstakes casinos on our list allow players to purchase Gold Coins with Bitcoins and carry out prize redemption in this currency. However, if you're looking for an excellent option, Stake.us is one of the best Bitcoin sweepstakes casinos available currently.
There are many reasons to play at a crypto-social casino. The foremost one is the convenience and security of transactions. Additional advantages include anonymity, speed and low fees, making crypto a fantastic choice for purchasing items at a sweepstakes casino.
Unlock casino offers!
By subscribing, I confirm that I am over 18 and a resident of the United States of America.
I agree to Sweepstakescasino.net's Terms of Use and Privacy Policy.