Best Blackjack Sweepstakes And Social Casino Sites

Free Legal US Blackjack Sites
Residents in 49 US states can play free blackjack at a long list of sweepstakes casinos. Based on our journey of trial and error, playing at a random blackjack site or app doesn't pass for a real casino experience. Discovering sweepstakes casinos has been a revelation.
This social casino model lets you play sweepstakes casino games and slots from world-class providers. There is no "catch". You can really play online blackjack for free at sweeps casinos with the virtual currency called Gold Coins.
GC's can be acquired by making daily logins, receiving emails from the respective casino, random drawings, and by simply playing table, card, and slot games. Regular promotional packages containing large amounts of gold coins can be purchased to enhance your sweepstakes experience.
The other currency that is part of sweepstakes casinos is sweep coins. Playing and winning blackjack games with SCs enables you to redeem your winnings, like winning real money at a casino.
Chumba Casino Social Blackjack
Chumba Casino is the fastest-growing social casino with a large selection of more than 300 slot games, card, and table games.
Blackjack veterans can hardly find a reason for skipping out on the game, and new players can use it for the learning curve. If you belong to the latter group, hitting the "Show Odds" button lets you get a sense of the cards at hand.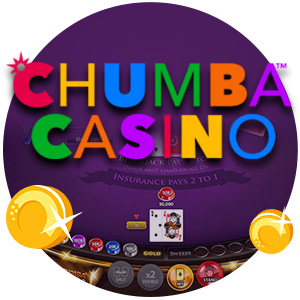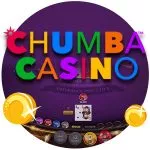 Chumba's Blackjack version is perfect for mobile players thanks to the four round buttons for Split, Double, Hit, and Stand at the bottom of the table. The other variant, Back Blackjack, features five boxes or "shoes".
Both options are regally designed with a royal-purple felt and organized layout of callouts and controls.
Global Poker Social Blackjack
The name itself suggests that this virtual casino venue is dedicated to poker. However, Global Poker wouldn't be a real poker sweepstakes website without blackjack, Hold'em, and other card and table games.
Players can choose between the Blackjack Classic and Premium variants. Novices can hone their craft by betting Gold Coins against a house edge of 0.78%. Players with advanced skills can play with Sweep Coins with a more favorable house edge of 0.46%.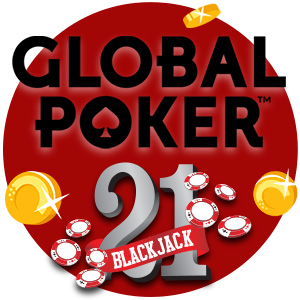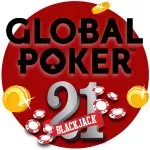 One of the main attractors for players who want to improve their skills is the comprehensive rulebook for Blackjack. Advanced blackjack players can enjoy exciting tables and variants. You can utilize these and other features when you claim the Global Poker bonus code.
BetRivers.Net Social Blackjack
BetRivers is a play-for-fun casino available to players in 49 US states and has one of the best selections of games in the social and sweeps casinos segment.
No other casino can offer more video poker and blackjack games than BetRivers. Players can choose from 15 variants, including a progressive jackpot Blackjack whose pot rises with every bet across the BetRiver network.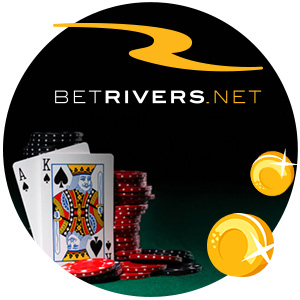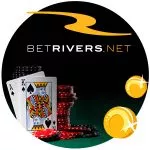 Casual players can opt for the standard Blackjack variants or play those that offer a slight twist, like Multihand, Xchange, Blazing and 3+1. If you aren't sure what these are, playing blackjack for free is the way to learn and BetRivers offers just that.
Easy to play

Play blackjack with free gold coins

Plenty of learning materials online
Big learning curve for counting cards

Limited number of live dealer blackjack games

Free Blackjack Sweepstakes Apps
We are dedicating a special section for blackjack apps to help our visitors discover the best app for sweepstakes casinos.
Sweepstakes and social casinos like BetRivers, Chumba Casino, Global Poker, and others provide special promotions for players downloading and playing casino games from the respective app.
Apps can make purchasing gold coins easier and safer by connecting your bank or e-wallet app. Sweepstake casino apps also bring a more personalized, streamlined user experience.
If downloading an app on your phone is not an option, you can still play blackjack and other games on your mobile or tablet device.
Here is how to play blackjack on your mobile telephone:
Open this page from your mobile web browser
Claim a welcome promotion for a sweep casino
Complete the signup process
Click the link in your email to verify
Choose your blackjack or casino game from the website

Enjoy playing
Note that both the browser and app allow you to redeem sweepstakes cash (SCs) for money.
Winning Real Prizes Playing Sweeps Blackjack
Slots and casino games can be played for free. However, sweepstakes casinos don't preclude the possibility of cashing out with real money. The Gold Coin/Sweep Coin dual currency model enables US and Canada residents of legal age to create a free account, play, acquire free coins, participate in competitions, claim promotions, and redeem winnings.
Winning at blackjack at sweepstakes casinos with sweep coins means you can redeem that virtual currency for dollars. To redeem $SC blackjack prizes the player's balance has to be above the minimum threshold which is set by the casino.
Sweep coins can be redeemed for US or Canadian dollars by players with a verified account. The verification process can be completed by following onscreen instructions on the "Cashier" or "Redeem" page.

How Do You Play Free Sweeps Blackjack?
Blackjack is one of the most straightforward casino games. Playing blackjack with free gold coins lets you practice the game or have quality casino entertainment. Here are the basics of how to play blackjack.
To win in blackjack, the cards you are dealt need to reach 21 before the dealer does on the flip, or you can win by getting close to 21 while the dealer's hand goes "bust." You can win instantly if the dealer hands you any face card and an ace for a combined sum of 21. The ace can count as one or 11, whichever helps you get to 21 or to not go over.
The above represents the basics of the game, whose actions are prompted in an automated setting so that you don't miss on decisions that can be potentially beneficial to you. Playing blackjack can also involve buying insurance for your bet, in case the dealer has an ace (11) for the up-card (first card).

Sweepstakes Blackjack Variety
Blackjack has many variants. A slight twist in the rules of the game can create a shift in odds and pay ratio that may benefit the player, and the house or just make the game more fun to play. We'll take a look at the following free-to-play blackjack varieties that can be found at sweepstakes casinos.
Single Deck Sweeps Blackjack
The main determinant in this game of 21 is the number of decks or lack thereof. In a single-deck game, players get slightly better odds but also fewer ten-cards, that is, 10s and face cards, compared to playing with multiple decks.
Then there is the main advantage. If you are proficient in card counting, playing a single-deck game makes it a lot easier to deploy your craft. With plenty of strategies and cheat charts online, playing a single deck is probably the best way to learn the ins and outs of strategizing.
Single-deck blackjack can be played for free at the BetRivers sweepstakes casino and you can start by claiming the welcome promotion on this page.
Sweeps Progressive Jackpot Blackjack
The progressive variant is for players who like to take additional risks in exchange for potentially bigger redemptions. In progressive blackjack, players can place a side play alongside the regular play. A percent of each side play goes into the main pot.
If the cards dealt for the side bet combine (match) with those of the dealer, the house pays out the corresponding ratio. It is the company that makes the game that decides what combination of cards can pay one of the prizes.
For example, in progressive blackjack games whose jackpots are based on aces, two aces of different suits pay 15:1. Three aces of the same suit pay 1000:1. The jackpot is paid for four red or four black aces.
Needless to say, this ultimate outcome is pitted against long odds, but it can happen nevertheless.
Playing this blackjack variant involves the same rules from the basic game, save for the following:
Can't win the jackpot with split aces
Doubling down means 100% initial raise plus getting dealt one more card
Sweepstake European Blackjack
This variation brings along a few changes that can make the game livelier by tilting the basic rules for both the dealer and the player.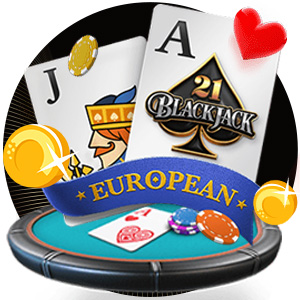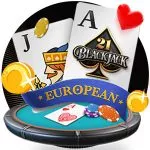 One of the rules that many players salute as favorable is "no hole card." What this means is that the dealer can't have a peek at the face-down card until after each player plays their hand.
Other details include the dealer is obliged to stand on a soft 17, meaning the dealer can't hit another card if the two cards yield the number above.
Also, doubling down, which is raising the bet, is only permitted on hands that are 9, 10 and 11 combined.
Sweepstake Atlantic City Blackjack
This is a rare variant at sweeps casinos but one that is very popular with risk-averse players. The game was invented to attract casual players in the years when the first casinos opened up in New Jersey oceanside town.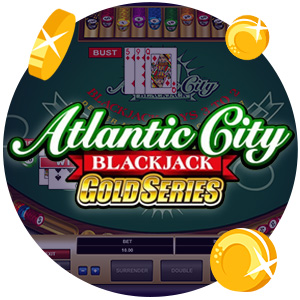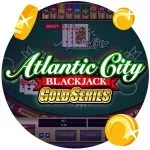 The defining feature of AC Blackjack is that it allows players to "Surrender". In other words, players can forfeit the hand, and a half of the wager, after the dealer's up card if their cards are deemed as less than favorable.
Other rules apply to Atlantic City Blackjack. You can split a maximum of three times and once for aces; dealers can peak the hole card if the face is a 10-card or ace; and the game involves eight decks.
The latter is the main disadvantage of this blackjack variant because it makes strategizing or counting cards extremely difficult.
Sweeps Live Dealer Blackjack
Various live casino games are available to play online against a real croupier. Leading iGaming companies like EveryMatrix, NetEnt, Microgaming and Evolution offer a real casino experience while you are enjoying the comfort of your home or any place that has a wifi connection.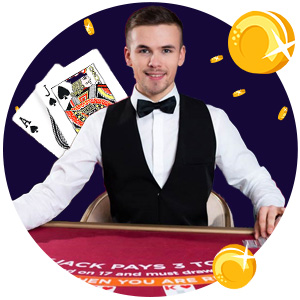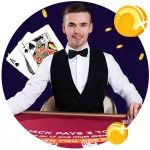 Playing blackjack in a live dealer setting is available at a very exclusive number of sweepstakes and social casinos. Your best bet is to earn sweep coins at the US countrywide BetRivers Casino, which offers the sweepstakes Infinite Blackjack. Other sites are expected to follow suit and include the live option too.
Live Blackjack can be even more engaging than playing it as a virtual casino game. Some but not all studios have a chat function, enabling you to ask the dealer questions or make small talk. The person on the other side of the screen will respond as long as there is no breach of common-sense etiquette.
Having a more sociable blackjack experience beats playing in a virtual setting, but it comes with two main disadvantages: the stakes are higher, and naturally so; and the pace of the game and the sense of pressure to make a move are not suitable for beginners.

Sweepstake Blackjack Redemptions
The main takeaway is, if you are intrigued by blackjack, free-to-play blackjack is the best way to get the hang of the game for free and then proceed to play with sweep coins. As we'd stated previously, the latter is the currency that can be redeemed for real money.
Like other casino games, Blackjack lets players play for fun or in a more serious setting, with sweep coins exchanged 1:1 with the dollar.
The top three sites above, Chumba, BetRivers, and Global Poker, enable players to redeem sweep coins for real money.
Before being able to do that, you need to complete the account verification process by the casino.
The above requires submitting digital copies of a state-issued ID or driver's license, passport ID page, utility bill, and some other documents upon request. Once the account is verified, subsequent withdrawal requests can be made easily.
Our Personal Take On Sweepstakes Blackjack Games
Blackjack is the best card game when it comes to player vs house odds. Having a good betting strategy in place can help players get close or even with the dealer, leaving you room to double down on hands that seem well-positioned for 21.
Variants where you can peek at the whole card enable you to make even smarter bets. Hence, blackjack is a game of skill and luck both simultaneously, where advantage can flip from player to dealer and vice versa. And what is the best place to enjoy the show? The answer is our well-curated list of sweepstakes casinos.

All US states except Washington allow individuals of legal age to create an account at sweepstakes casinos where free blackjack is available.
Doubling down on hard 11s and splitting eights and aces should be the first course of action when the cards are right. This is just for starters, as blackjack has several key calls that can improve your odds when combined with a time-proven strategy.
For those who want better margins and a more straightforward game, the single deck and European variants are both the best and easiest to play.
BetRivers has the best live dealer option for blackjack called Infinite Blackjack from Evolution Gaming. BetRivers also works as a play-for-fun casino site that lets players acquire free gold coins if you want to play for free.
The top three websites for free blackjack are Chumba Casino, Global Poker and BetRivers. You can explore our full list for more sweepstakes casino blackjack games.