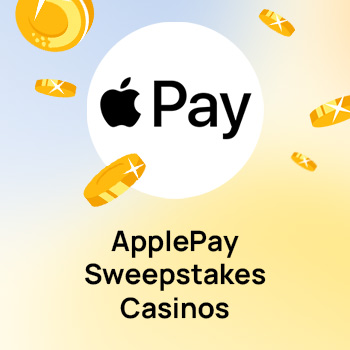 Apple Pay As A Sweepstakes Purchase Method
Just as iPhones changed the game in the mobile device sector, Apple Pay has become the trailblazer for online mobile payments. This is one of the most technologically advanced payment methods allowing users to make quick Gold Coin purchases in their favorite sweepstakes casinos with utmost ease.
Every one of Apple's 500+ million customers can use a unique Face ID, Touch ID, or passcode to complete payments. This makes for quick and safe transactions from Apple Pay. The standard benefits of iOS devices extend to Apple Pay. If you should lose your phone, you can prevent unauthorized access to the app through Apple's remote lock facility.
Aside from the benefits above, you can activate sweepstakes purchase bonuses using Apple Pay. Exclusive Apple Pay promos may also be available.
Finding An Apple Pay Sweepstakes Casino
Apple Pay is a service designed for people using iOS and Mac devices. You can add this mobile wallet to iPhone, iPad, Mac, and even Apple Watch. Although it's been around for less than a decade, most Apple users have adopted this payment system. It's most popular throughout the United States, from New Jersey to Nevada, but the service is also available in other countries around the world.
An increasing list of sweepstakes casinos makes Apple Pay available as a payment option. The method is simple and convenient, but its biggest advantage is security. You'll only be sharing your Apple Pay details with the casino, so your banking information isn't necessary.
Wow Vegas and Apple Pay
Wow Vegas offers an intuitive and user-friendly interface. It's easy to navigate to the cashier, and that's where you'll find coin purchase packages. The platform calls the default coins "Wow coins", and they're the only ones you can buy. There's a two-coin system, but you can't buy only sweepstakes coins from the cashier.
The available Wow coin packages go from $0.49 to $99.99. You can use Apple Pay for all these, and the process is simple. You'll easily find where to enter your mobile wallet details and finalize the transaction. However, it seems that Wow Vegas only supports Skrill for redemptions, so you can't use Apple Pay to claim any prizes.
Wow Vegas promises hundreds of games, and there are over 300 titles in the library. You can spin the reels at slot machines or go with blackjack, video poker, and other casino table games. There's a sign-up bonus, daily deals, and other tempting promotions that keep the fun going.
Gambino Slots and Apple Pay
Gambino Slots recently expanded its range of payment options to support Apple Pay, but you can also use PayPal, Visa, MasterCard, and other debit and credit cards. Casino players can purchase coin packages easily. Once you access your account, head to the cashier section and pick Apple Pay. The instant processing ensures gold coins will become available for playing immediately.
You can participate in different player contests and win gold coins by playing different games. Around 100 titles are available, but there aren't big names and developers. However, you'll find varying themes and features to keep the fun going. Those who enjoy the thrill of spinning the reels on a slot machine will love Gambino Slots.
Although the platform doesn't have many casino bonuses, there's a VIP program for most dedicated players. Gambino is popular in Tennessee, Michigan, and other US states, so you can have a fun social experience on the platform.
Golden Hearts Games and Apple Pay
Golden Hearts Games offers an interesting twist that allows donating funds to a public charity. You'll not only have fun playing in this social casino but also do a good thing for society.
As for payment methods, Golden Hearts Games is quite impressive. Apple Pay and Google Pay are two mobile wallets you can use, or you can purchase coins with American Express, Visa, or MasterCard. Apple Pay provides instant processing, so you'll get the coins right away. Several packages are available, and although the offer isn't as vast as on other sites, it'll cover the preferences of most players.
Golden Hearts Games has over 100 titles in its library, with slot games dominating the scene. Those who purchase with Apple Pay or any other method can expect a welcome bonus. The site also has monthly recharges, bongo games you can play to get coins, and other incentives.
Important Things You Need to Know About Apple Pay Sweepstakes Casinos
Extremely popular among Apple users

: Apple designed this payment method exclusively for those who purchase iOS devices made by the same company. If you have an Apple gadget, this method provides the

ultimate convenience

when purchasing coins at a sweepstakes casino.

Supports a wide range of Apple devices

: Apple Pay supports iPhones, iPads, and Mac computers, and it also works on Apple Watch. You don't need to have the latest models – for example, the transactions will work perfectly with iPhone 6 Pro. On the other hand, the obvious downside is that

you can't use this method for mobile payments if you don't have an iOS device

, so you'll have to look for alternatives.

Improves security and ensures you don't share sensitive banking data:

Apple Pay only requires you to provide your wallet address to conduct payments at sweepstakes casinos. That means you don't provide a card number or bank account details. Additionally, you need to confirm each transaction with the Touch ID mechanism. It

maximizes security

and minimizes the risk of anyone abusing your Apple Pay wallet.
High level of privacy and security

Touch ID protection

Instant transactions
Only compatible with Apple devices

Not available for redemptions
Benefits Of Apple Pay VS Other Purchase Methods
Apple Pay might not have a rich history, but the company's reputation brought high popularity quickly. The payment option became a brand for itself, and here are the main pros of using it:
The simplicity of purchasing coins

. It takes less than a minute to enter your wallet address and confirm your purchases.

Admirable security measures

. First, you don't need to share bank or debit card details. And confirmation is only possible with the Touch ID or Face ID, which is excellent protection against fraud.

No charges when you purchase coins

. It's similar to using debit cards and other payment methods, which means Apple Pay keeps up with its competitors.

Unlock bonuses for social casino games

. Some platforms require using a promo code before purchasing, so make sure to read the terms first.
Widely accepted in the US. Apple is primarily a US company, so it's not only that you can use it in sweepstakes casinos but also at payment points in Louisiana, Connecticut, and other states.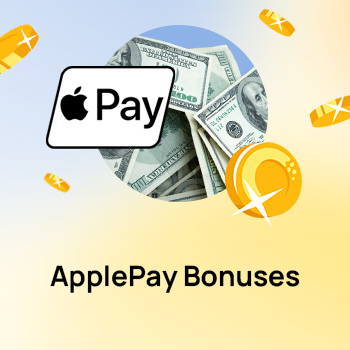 Best Apple Pay Sweepstakes Bonuses
Sweepstakes casinos are often packed with bonuses and promos. There are many ways to earn free Gold Coins and Sweeps Coins at these sites before and after you transact with Apple Pay. Here are the most common ones:
Sign-up bonus – This offer is available to all registered users automatically. Players at Apple Pay sweepstakes casinos receive free Gold Coins to kick-start their gaming experience. Many sites will offer a combination of Gold Coins and Sweeps Coins.
First-time deposit bonus – Your first Apple Pay purchase at the casino will often reward you with free Gold Coins and Sweeps Coins. Most times, any payment method will validate this bonus. Although rare, Apple Pay users may get exclusive offers or discounts on purchases.
Daily login bonus – This bonus is unique to sweepstakes casinos and credits your account with free Gold or Sweeps Coins every day you log in. You'll enjoy a daily login bonus at all of our recommended Apple Pay sites.
Social media bonuses – Sweepstakes casinos generally have online communities on various social media platforms. Via these networks, they organize contests, challenges and giveaways where players can win free Sweeps Coins.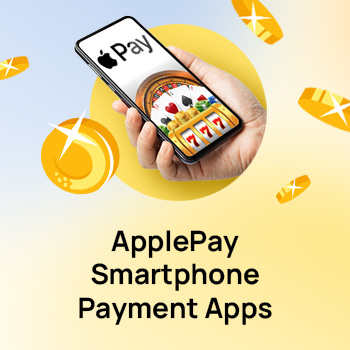 Apple Pay Smartphone Payment App
Since its launch in 2014, Apple Pay has become an integrated part of most iOS devices. Here's how to set everything up to start using this method:
Check to see if you have the Wallet app

installed on your gadget. If not, try to find it in the App Store.

Open the app

and enter your Apple ID credentials if necessary.

Find the + button and click on Add a New Card

. This is a way of adding a card you haven't used with the Apple Pay wallet previously. It's possible to scan the card or enter the required info manually.

Another option is to add a card you've already used with the wallet connected to that Apple ID

. The system will require using Face ID or Touch ID authentication, and you'll only need to insert the card's CVV number.
Eligibility will depend on the card issuer. Most major providers support Apple Pay, so you shouldn't have problems adding this option.
How to Purchase Gold Coins Using Apple Pay At A Sweepstakes Casino
The steps are similar at all social casino sites, and here's the process to follow:
You'll need to register

and verify your account to have permission to purchase coins.

After you access the account,

check the available offers

since different operators could have different packages. Decide which option suits you best.

You might

find the Purchase Coins

button next to the offer. If not,

go to the cashier

and pick Apple Pay as the payment option.

The

payment system will transfer you to the Apple Pay app

on your mobile device.

You will need to authorize the transaction.

It's necessary to use a passcode, Touch ID, or Face ID

. And the options available depend on the device.
The platform will confirm the transaction, and you could get an email notification, too. The coins should be in your account right away, so you can start playing casino slots or any other game available.
How to Redeem your Sweeps Coins for Real Prizes at an Apple Pay Sweepstakes Casino
If you were lucky enough to win a prize at a sweepstakes casino, you could redeem it from the cashier section. However, social gaming sites don't support Apple Pay for prize redemptions at this moment. The alternatives depend on the operator, but you could have a choice between e-wallets like Skrill, bank transfers, or gift cards.
Casino players who haven't verified their identity before redeeming their winnings will need to do so now. Sweepstakes casino site providers apply KYC programs that protect against potential fraud. Users from Iowa to Kansas and North Carolina need to go through the verification process. It involves entering basic details and uploading documents to prove your age, identity, and address.
Most providers will complete the verification in less than 24 hours, so it's not something that should take a lot of your time.
How Long Does It Take To Redeem Prizes Using Apple Pay At A Sweeps Casino?
We already established Apple Pay isn't a supported method for redeeming prizes. You can use other options, and here's what affects how long it takes to claim the winnings:
The prize you won

. Digital gift cards usually don't take more than a couple of days to reach your email, and the same is true for e-wallets. But if you choose bank transfers, it could take up to five working days.

Processing times

. The time required for the platform to process your request might vary, but it's usually 24 – 48 hours.
Verified identity. If you confirm your identity before making a redemption, you won't have to waste additional time on that process.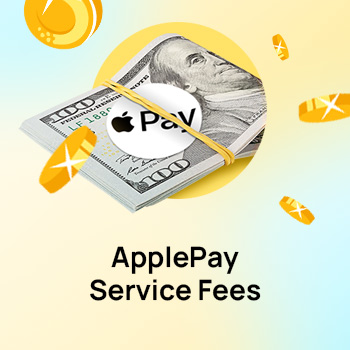 Apple Pay Service Charges
Only a handful of payment platforms for online sweepstakes casinos can boast of free transactions, and Apple Pay is one of them. Since its introduction at an Apple event for the iPhone 6, Apple Pay has been thrilling users with innovative features and services at zero additional costs. Apple Pay stays away from such fees since the idea behind this payment outfit was primarily to improve the payment system for Apple devices.
These free transactions apply to users in the US and any of the 50+ countries that accept Apple Pay. However, while this payment system doesn't impose any charges for transactions, some casinos do. You may find that these casinos impose a purchase fee, redemption fee or inactivity fee.
Inactivity Fee
Leaving your Apple Pay sweepstakes casino account dormant for a long time can incur an inactivity fee from the casino. This usually applies when a player remains inactive for up to a year. The amount will be charged to your account every year you do not log in or play at the casino.
Not all casinos impose an inactivity fee, but you can find more details on the terms and conditions page. If you're going off the radar for a long time, you can request time out or close your account entirely to avoid accumulating these charges.
Purchase Fee
Apple Pay prides itself on a payment channel that charges no fee for purchases. Players in Pennsylvania, New Jersey, and other states allowing sweepstakes can make purchases without hidden charges. In addition, Apple Pay advises users to investigate unfamiliar service charges by regularly checking their purchases in the Wallet app. That way, you can protect yourself from paying fees for transactions that ordinarily should be free of charge.
Redeeming Fee
The redeeming fee is the additional cost of processing prize redemption on sweepstakes platforms. This fee is similar to the withdrawal fee in regular online casinos. This fee will be clearly stated beside the payment channel whenever you attempt to redeem winnings for cash prizes.
Since Apple Pay does not support prize redemptions, this fee doesn't apply to the payment method. Nonetheless, the best Apple Pay sweepstakes sites provide several other ways to redeem prizes. These alternative options may have redeeming fees. The exception is gift card redemption, as this has no fees attached.
Apple Pay Support
Usually, sweepstakes casinos have a customer support system where players can tender their requests and inquiries. These channels include hotlines, emails, live chat, etc. The live chat option is one of the most effective channels, allowing players to communicate with casino agents in real time.
Apple Pay also provides its own customer service. Users can download the Apple Support app to access customer support easily. Players can find other ways to get help regarding Apple Pay transactions on the Apple website. You can also discover answers to your inquiries in the FAQ section. This contains reliable answers to some common issues gamers face while using Apple Pay.
The sweepstake site will also have a dedicated FAQ page to help with casino-related issues. Purchases and redemptions will be covered.
Apple Pay Sweepstakes Casinos
4.9
Published on 15 Sep, 2023
Apple Pay's biggest strength is also its con – the fact that it only serves iOS and macOS users. It was imagined as one of the exclusive services for owners of Apple devices. Many sweepstakes casinos offer it in their payment method selection, and you can pick from a variety of sites.
Coin purchases secure maximum value since there aren't any fees involved. It's secure and easy to use, so don't hesitate to give it a try the next time you visit sweepstakes casinos!
Jonathan Hill

Review Author
Yes. Apple Pay is a popular payment method in the US. As such, several sweepstakes casinos allow players to make purchases using the app. Vegas7Games is an excellent example of a casino that accepts Apple Pay. Other sites that are considered among the best Apple Pay sweepstakes casinos are Gambino Slots, Golden Hearts Games and Skillz Casino.
No, MGM does not support Apple Pay as a payment option. Nonetheless, there are other payment methods available at the casino, including credit/debit cards, ACH/e-check, PayPal, Play+ Prepaid Card, etc. If your heart is set on playing with Apple Pay you can pick one of the available Apple Pay sites, including Gambino Slots, Golden Hearts Games, Vegas7Games and Skillz Casino.
No, FanDuel does not allow players to use Apple Pay when making transactions. Instead, players can access a range of other popular options such as Visa, Mastercard, Venmo, PayPal, online banking, and more.
You can link your credit, debit or prepaid card with Apple Pay. You can then transfer funds from your card to the Wallet app. This is done simply by opening the app on your device, tapping on your Apple Cash card and selecting the 'add money' button. A simple and straightforward process that makes Apple Pay a popular payment method for players.
There are a lot of sweepstakes casinos that allow Apple Pay for purchases. Our list reveals the best ones on the market. You can simply take your pick or read our comprehensive reviews to get more insight. Gambino Slots is one of the best online sweepstakes casinos that accepts Apple Pay, although Golden Hearts Games, Vegas7Games and Skillz Casino are also excellent options.
Apple Pay is among the safest payment options as far as online gaming is concerned. The app applies top-grade encryption technology that scrambles players' card or bank details. The addition of Face ID and Touch ID ensures that only you can access your account. This makes it an ideal payment method to use at sweepstakes casinos.
No, there are absolutely no fees when purchasing Gold Coins with Apple Pay. This makes it an excellent – and affordable – choice as a sweepstakes casino payment method.
Unlock casino offers!
By subscribing, I confirm that I am over 18 and a resident of the United States of America.
I agree to Sweepstakescasino.net's Terms of Use and Privacy Policy.