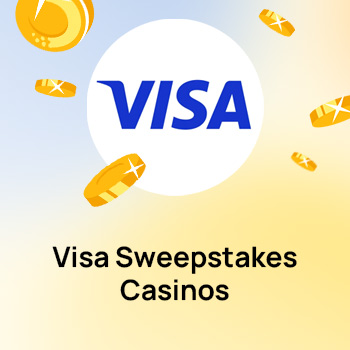 Finding A Visa Sweepstakes Casino
Online casino sweepstakes sites are legal in all US states except Washington state. Even states where gambling used to be limited to land-based cash casinos can now offer plenty of games and tournaments: Kansas, Iowa, Connecticut, Texas, North Carolina, and so on.
As a rule, all sweepstakes casinos accept Visa. The market for this card is simply huge. To use this payment method, you need to log into your casino account, go to the payment screen, and deposit funds to purchase gold coins.
Depending on the casino, players can log in with Facebook, Gmail or by creating their username and password from scratch. You can play from your mobile device or desktop, with Android and iOS tablets offering an alternative.
Benefits Of Visa VS Other Purchase Methods
The number of sweepstakes casinos accepting Visa far outnumbers those that accept PayPal, for example. This is the best way to get your serving of fun sweepstakes games and jackpot slots online.
The other immediate benefit is that all United States and Canadian banks issue Visa cards. The choice of cards and promotions is nearly endless. If you have a decent credit history, your bank will inform you about new Visa cards and their associated benefits like cashback on purchases, low introductory interest rates, discounts at select retailers and restaurants, and even discounts for online shopping.
Skrill is another popular method that works with Visa besides Google Pay. Having both a card and an e-wallet is beneficial for those who prefer having more options.
Number 1 payment network

Low limit cards given without credit history

Almost every bank can issue Visa cards

introductory
Fewer benefits compared to American Express

Interest rates can go from zero to up to 30% after promo period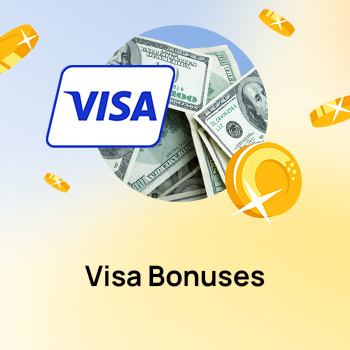 Best Visa Sweepstakes Bonuses
Sweepstakes casinos can be very liberal with the variety of bonuses on offer. These can range from free spins to free coins and everything in between. Let's look at some of the promotions we've seen across dozens of sweeps and social casinos lately.
Perhaps the most exciting bonus is for up to 100 free spins on select slot games. Free spins enable the player to enjoy the game for free and try its extra features, payout frequency, and volatility.
No Deposit bonuses have a large share of claimants too. The point of this bonus is quite straightforward: try the casino with a specified amount of free money without having to deposit. If the casino has a good selection of games, you can buy gold coins and continue to enjoy your casino adventure.
Many sweeps casinos offer free coins of 1,000,000 or 2,000,000 or more. For comparison, $2.00 US equals 4,000 gold coins. Note that casinos add sweeps coins for free when you buy gold coins, but the amount depends on the amount of the GC package. The advantage of this bonus is that the range of casino games and sweep slots where you can spend the coins is greater than free spins bonuses.
Although rare, some sweeps casinos offer a free "Wheel of Fortune" spin as a welcome bonus. The claimant can win one of many prizes, which include bonus coins, sweeps coins, free spins or cash. Sometimes the top prize is four figures, making this casino bonus worth the gamble.
While most sweepstakes casinos have jackpot slots, these games are generally excluded from bonuses and promotions. There may be some exceptions here and there, and they should be seized upon when discovered by savvy players.
Please note: sweepstakes casino bonuses are available to players who are new to the social casino and are 18 years or older. With so many quality sweeps gaming sites online, players can claim a new bonus until they find one or more favorite venues.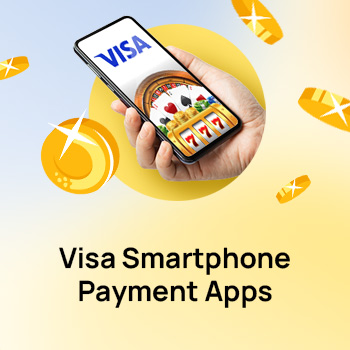 Visa Smartphone Payment App
Visa has three apps for Android and iOS devices. The Explore app acts as an all-in-one virtual desk where cardholders can buy various forms of insurance, search for a hotel, rent a car, dine at a restaurant, locate ATMs, claim discounts and other offers. The Visa Mobile app works as an e-wallet while the rest are geared towards merchants
The Visa Explore app can be really useful for customers who want to reap the benefits that are offered by the Visa payment processing network. You can look at it as a Yellow Pages whose information has been distilled to benefit cardholders.
Notable is that the Visa app for payments can act as your e-wallet for all of your Visa cards. Its users can store their id for added security while relying on their mobile password to unlock the device. Visa Mobile can exist parallel to your bank's mobile app or an e-wallet, like Google Pay.
The Visa Explore app provides its concierge service which can be really useful to some people. A concierge service may sound like a thing of the past next to so many web services for table reservations, bookings and so on. However, Visa is a name that can facilitate your requests, especially if you have a Visa Infinite or Visa Signature card. This is a great way to save time.
How To Purchase Gold Coins Using Visa
Visa offers more than one way to make payments. When at a retailer, you can swipe the card or you can do contactless payment, where available. Another way, which is in step with the advancing mobile payments technology, is to pay by touching your phone to the terminal. Paying at an online casino to buy credits or claim a bonus is easy and secure.
At online casinos the customer can key-in their personal details and card number. If the casino accepts e-wallets like Google Pay, the Visa Mobile payment app or your bank's mobile gateway, users can select the corresponding button to complete the payment automatically.
How To Redeem Sweeps Coins For Real Prizes Using Visa
We stated right at the start that Visa is accepted by nearly all casinos online. That said, you can use your Visa account to redeem sweepstakes coins that have been converted to cash. Casinos can honor your rewards only if you are a legal resident of the country where sweepstakes casino gaming is legal and if you fulfill the age requirement, among others that are part of the T&Cs.
To redeem your winnings your casino account has to have the minimum value. Most casino operators set this value to $10.00, but it is best to check the Frequently Asked Questions page. It is usual for casino players to redeem sweeps coins for cash prizes that are $20.00 or greater. Sweeps casinos have a limit to how many sweeps coins can be redeemed at once. That number is around 50,000 and anything above needs to be split in two or three tranches.
Verify Your Account
Verifying your casino account is part of the signup process. Before you can start playing the casino is going to send you an email with a link that you need to visit, which brins you back to the casino.
Verifying your banking account is just as important before you can redeem your prizes. Your bank card needs to be a personal account made to your name.
Supporting documents may be required to confirm your identity, like proof of adress on a utility bill, credit card statement, drivers license or other form of government ID.
Some casinos may require sending a selfie in addition to the above. Phone-verification is also a way to confirm your identity as the casino needs to match your name and phone number when paying out a larger sum of money.
Verifying your sweepstakes account requires the above action for the purpose of preventing double accounts and fraudulent activity, like claiming multiple promos under a false identity.
Visa Redeem Processing Time
The prize redemption process should take less time granted the casino has already verified your identity. Casinos conduct their internal review Monday through Friday, as per the credentials required above. The casino may require between one and five days to complete the process if everything is OK with the account.
Banks take on average 2-5 days to process the request from the casino. The money is transferred to the player's banking account. It isn't unusual for transfers to post within one or two days after the request was made by the casino. Visa accounts tend to have the same priority as the other major payment processing networks, like MasterCard and Amex.
The advantage with Visa is that this is a major company and banks who issue Visa cards tend to be well staffed and trained. This is a factor in the speed at which requests are processed.
General rule to mind is that neither banks nor sweepstakes casinos can process redeeming requests on weekends. When submitting your request on a working day, chances are that the transfer will complete within five working days.
Visa As A Purchase Method
Visa is the most widespread method of payment. Virtually every ATM machine in the world accepts cards with the Visa logo. The company was founded in 1958 and has grown into something that is its own category. Today, all but few countries in the world accept it. The US is the biggest user of Visa with a total of 300 open accounts. Visa is available in multiple international currencies, including euro, yen, rand, yuan, rupee and so on.
Furthermore, the availability of ATM machines that accept Visa cards is rather extensive. While this doesn't apply to online casinos, participants in a Visa program can try their luck in other forms of numbers games like lotteries and powerball, land-based video poker and so on.
All this is to say that Visa is the undisputed king of credit cards and is therefore the foremost payment method at any given sweepstakes site, physical money casinos, sportsbooks sites, and more. Obtaining a Visa card needs to go through the bank which can accommodate the applicant with various levels of service, ranging from the basic Visa to Visa Platinum.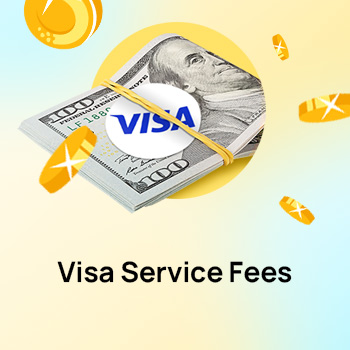 Visa Service Charges
Visa charges transfer fees when banks interchange transactions. There are different charges for different types of accounts. Generally speaking, credit cards tend to have higher fees compared to debit cards.
Visa charges merchants between 1.15% and 2.70% as a cost for processing their transactions, depending how a transaction is made. However, these figures don't concern private users. Merchants usually factor-in their processing service fee in the price, and no one notices that.
That which is of concern to private customers are fees and charges for additional services or penalties.
One example is the overdraft fee which banks charge when a customer attempts to withdraw or spend an amount of money that is greater than the available balance. This charge can be quite steep – around $20.00 and is applied regardless of whether it was made on a Visa, MasterCard, Amex, Discover or something else.
Another example is the inevitable interest rate on credit cards. The issuing bank may promote a Visa card with an introductory rate of zero or a small percentage as the annual interest rate. When the promotional period is over, the interest rate for that card can rise to a rather hefty charge, in some cases up to 30% APR.
Our tip for sweepstakes casino players who want to use their Visa for deposits is to make sure they have a zero or low APR (Annual Percentage Rate, i.e. Interest), of up to or around 5%. Otherwise, that $50.00 deposit you made will cost more by accruing interest, which will appear on your statement.
Inactivity Fee
By not using their Visa card for 12 consecutive months, bank customers incur a fee that can be as small as $2.00 or as big as $20.00 or more. In the worst case, the bank may resort to closing that card if the card dormancy period has been longer than 12 months. One way to avoid a dormancy fee or having a card canceled is to make an occasional purchase.
We will share two tips in this respect. You should mind the dormancy period if your Visa card has promotions and benefits that trump the annual interest rate. And second, if the annual interest rate is high and you have other credit cards then canceling your card yourself would be smart recourse, unless you don't mind paying the inactivity fee.
Purchase Fee
Besides the interest rate charge which we described above, a Visa card may have a purchase fee. This, however, is unusual if the purchases made with that card are domestic. If you are traveling abroad and rely on your card to shop, pay for various expenses or withdraw money from the ATM, your bank will make a charge for each transaction. This charge may be flat or a percentage of the total sum. An additional charge may be taken as a currency conversion fee.
Redeeming Fee
Players at sweeps casinos can redeem their sweeps coins by converting them into real money. Casinos allow players to withdraw this money into their banking account without a fee. However, please make sure to check the casino's Terms and Conditions in this regard. Casinos are obliged to make a notification regarding any pending redeeming fees before the transfer is submitted by the player.
Visa Support
Banks that issue Visa cards are responsible for providing coverage for the customers' questions regarding their account. The company Visa can issue cards itself to individuals and business and therefore provides its own customer support. The latter platform offers live chat, email and direct telephone calls to provide assistance to customers.
On the other hand, major banks in the US and Canada have mobile apps that outscore that of Visa. Customers with these banks can rely on their native app for support and to have quick and complete overview of their transactions.
Visa the company has primary customer support in English, but has other languages depending on your location. This isn't usually the case with banks which provide support in the country's official language, with an option for a second or a third language that is spoken by a significant number of people.
Final Review on Visa Sweepstakes Casinos
4.7
Published on 15 Sep, 2023
Hands-down, Visa is the number one payment method and it figures closely in other payment methods like PayPal, Skrill, Google Pay and so on. Users of paysafecard can add funds via Visa also, in addition to other kinds of cards. Compared to other cards, there is a positive difference in respect to Visa and that is lower fees for credit cards and its widespread availability. So regardless of whether you are accessing a sweepstakes casino from New York state or New Jersey or Tennessee, the common denominator for methods of payment is this one.
Jonathan Hill

Review Author
Visa is one of the safest methods to buy gold coins and convert your sweeps coin into redeemable cash.
Visa credit cards may have an annual percentage rate (interest) and other associated fees and penalties. Visa debit cards tend to have fewer to no fees for purchasing goods and services online or in physical stores.
Being the number-one payment method in the world makes Visa the number-one choice for sweepstakes sites.
Visa's mobile app can be downloaded free from Apple's App Store and Google's Play Store.
Users of the Visa Mobile app can make transfers in real time. Transferring money between banks with a Visa account may take between a few minutes to up to a day.
Casinos don't award bonuses to customers using Visa or any other card. Bonuses are awarded for signing up with the casino and depositing money. Sweeps casinos can award bonus sweeps coins or free spins to customers who purchase gold coins.
Unlock casino offers!
By subscribing, I confirm that I am over 18 and a resident of the United States of America.
I agree to Sweepstakescasino.net's Terms of Use and Privacy Policy.