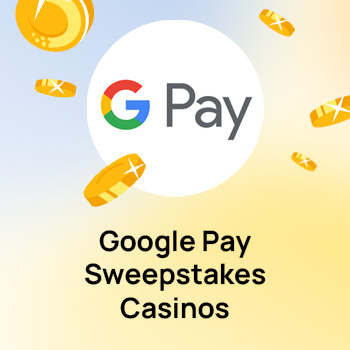 Finding A Google Pay Sweepstakes Casino
Finding a casino or sports betting website doesn't require strenuous research. Sweepstakes Casino players can play slots, video poker, sports matches, and other casino and betting games with funds deposited through Google Pay. The service has many advantages that make it easy to use. In addition to this, you can download the mobile app completely free.
The following information will help you find Google Pay casino sites, which include social and sweepstakes casinos.
Online casinos usually list payment services' logos on the website footer. You can scroll to the bottom of the page where you will find Visa, MasterCard, American Express, PayPal, Google Pay, and other payment methods.
Some sweepstakes casinos may store information for casino payment methods on the Frequently Asked Questions or Payments page. You can locate specific information from the table of contents or by using the "find" option. Note that Google Pay's logo is the same on all websites and will be displayed on the website where available.
One sure way to find out whether your sweepstakes casino accepts Google Pay is by making a deposit with the app. If you have used up all of your free Sweeps Coins from your welcome bonus, you can purchase Gold Coins directly from the website.
Benefits Of Google Pay VS Other Purchase Methods
Google Pay is an e-wallet that you can use from your Android or iOS telephone. The mobile app can be downloaded from the Apple Store or Google Play store. Configuring the app settings is easy and intuitive. You can follow the steps in the app or watch a YouTube video demonstrating how you can store your various cards and make mobile payments. The language of the native app is English, but other languages are available too.
Here lies one of the main advantages of Google Pay. Instead of pulling cards out from your wallet, you can access and use any of them by simply tapping the screen on your telephone or smartwatch. Visa, MasterCard, Amex, and other cards require that you enter plenty of data like the card number, expiration date, first name and last name, and other details. Some forms even require your billing address.
Licensed gambling sites also offer Skrill, PayPal, Paysafecard, and similar methods, however, these may require logging into the website. The main disadvantage of these payment methods is that they can't store more than one deposit method. Google Pay's technology is advanced and made to work on all smartphones whose operating system version can still receive updates.
Registration for Google Pay is another easy step as users can simply log in with their Gmail address.
Security and Encryption developed by Google

Can store more than one debit and credit card

All-in-one e-wallet for gift cards and rewards cards

Easy and safe download from the app store
Not available to people in certain countries

Google Pay doesn't have its own customer service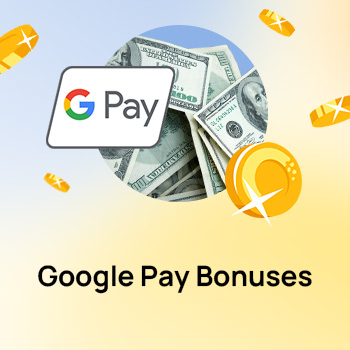 Best Google Pay Sweepstakes Bonuses
Casino bonuses are a part of the quality experience sweepstakes casinos can provide from the comfort of your home. Both professional players and those who simply like to have a casino entertainment once in a while, can enjoy the convenience of claiming valuable promotions. Of course, winning prizes is also part of the experience.
In terms of value, players can find welcome bonuses for free spins, 100% double on the deposit, free gold coins, cashback and more. Some casinos bundle these perks together and sometimes they can be claimed as different offers. The top sweepstakes casinos are famous for sending out an invite with exclusive deals for their regular customers.
The amount of free sweepstakes casino coins in a bonus package is the best way to measure the quality of the casino. This part of the casino experience is important because the more free coins you have, the longer you can play casino games for free. Some lucky players end up winning a big prize from a single spin chance.
The best place to look for news and offers is on a bonus comparison site for sweepstakes casinos that can process your credit or debit card from your mobile device.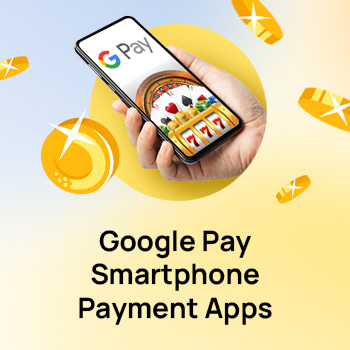 Google Pay Smartphone Payment App
Google's developers have done a terrific job in making your Android or iOS device a real alternative to carrying a wallet in your pocket. Google Pay is the app itself and the app is a massive tool with years worth of development and top-shelf expertise.
Security-wise, the app creates a Virtual Account Number which is a temporary substitute for the actual account number on your card. This doesn't mix up any of your personal data, just provides an extra layer of security.
Indeed, the app is loaded with hi-tech content and usability so that you don't have to mind carrying a wallet on your person at all times when outside. But before you make your first sweepstakes casino purchase with Google Pay, let's go over the following steps to set up the platform.
First off, you need to download the app and log in via Gmail.
All of the buttons that you require to operate the app can be found at the bottom of the screen.
Select the "Add Card" button and place your debit, credit or gift card in front of the camera.
The software reads the letters and numbers and stores them on your app without requiring much of your own input.
When done, press the "Save" button at the bottom.
Before you can use the card, the issuing bank needs to verify it by sending a unique security code to your phone or email.
You need to copy the exact same number back into the app.
If you have a preferred card, you can set it as your default one. If you want to use different cards, simply go to that screen and tap the card before making a purchase.
Fun fact, users can cross-send money between this app and Apple Pay!
How To Purchase Gold Coins Using Google Pay
You can claim your casino bonus and make the required purchase of coins with a card that's stored on your Google Pay. Before you proceed, make sure that the service is available in your country of residence. If this poses a challenge, the casino provides other types of payment options and bitcoin may be one of them.
The steps to depositing funds at sweepstakes casinos are the same. The casino gives you different options to deposit. Selecting the payment system at hand requires using your phone. You can pay on websites or on mobile apps. This method works well for in-app purchases at social casinos as well as sweepstakes casinos.
When you want to replenish your casino account you can tap-open Google Pay where the method is available, then select the "Buy With G-Pay" button followed by the card that you prefer.
How to Redeem Sweeps Coins for Real Prizes Using Google Pay
Your casino purchases in cash are converted into Gold Coins, enabling you to play a variety of games which include slot machines, roulette, blackjack, and not just one kind of poker game.
Regardless of the type of game, you can put your winnings to the side and forget about entering credit card details, thanks to Google Pay.
When you are ready to redeem winnings, go to the player's console, select the "Redeem" button and complete the steps in the process.
In some cases, certain parties will require additional details to confirm your email before allowing you to redeem your winnings. This isn't common just in the United States but also in the UK, Norway, Sweden and others.
Remember the key detail about how sweepstakes casinos work: gold coins are the currency which is required to play, while sweeps coins is the currency that can be redeemed in the form of a gift card or cash.
Verify your Account
Both online casinos and Google need to verify your respective accounts. This process is a required part of everything that completes the security apparatus at the highest level.
Verifying your identity on the Google Pay app you need to tap the "Money" button at the bottom and follow the process. Google will send you a security code at an incredible speed, which you then need to enter in the app.
Sweepstakes casinos need to match your first and last name with those on your card when making a transaction.
Sweepstakes Casinos have stepped up their safety measures in recent years, requiring everyone to provide and match additional personal details when redeeming any kind of prize.
Players who become regular at a specific sweepstakes casino and are verified in the system aren't usually required to submit additional IDs for subsequent redemptions.
Google Pay Redeem Processing Time
Google pay casinos around the world tend to similar processing times for when a player wants to redeem their sweeps coins. It takes the casino between one and two days to process the request, longer if there are many requests in the same period. Also note that some casinos have wagering requirements attached to a bonus offer, which need to be fulfilled before the player can redeem prizes.
Once the casino clears the request, the ball is in the bank's court. Things that may impinge on the speed of delivery are the volume of requests, the amount that needs to be processed and the availability of the recipient to be reached for confirmation. The general rule is that it will take the bank between 3 to 5 days to post the transaction to your account.
Google Pay as a Purchase Method
Being owned by Alphabet, which is Google's parent company, is a sure-proof that Google Pay is only going to grow bigger. The list of 42 countries where it is available today is going to expand to other places and continents beside North America, Europe and Asia.
That said, Google Pay's domestic use is guaranteed further development in terms of security, access and user experience. This helps it as a one-in-all purchase method where Google Pay is miraculously efficient. The e-wallet can store a virtually unlimited number of cards.
Major online stores, like Amazon and retail supermarkets like Walmart can process one-touch payments. Indeed many cards today have contactless payment, but not having to reach for your wallet and using your phone instead is far better than the other thing.
It helps sweepstakes casino players that coins which are redeemed as gift cards can also be stored on the app and used to make purchases.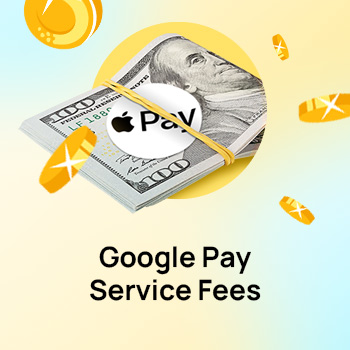 Google Pay Service Fee
Google Pay doesn't have hidden or unexpected charges for online or retail store purchases; however, this also depends on the country. The app will notify users before a service charge is applied to a transaction.
Google will charge your account to validate it. The service will post an automatic $2.00 charge and later cancel it to test whether your card has been integrated successfully.
All applicable domestic and international transaction fees, like currency conversion fees, will be charged to the credit or debit account, regardless of whether or not you use that card via Google Pay.
This is true for any card you store on your Google, or other e-wallets. As it is often the case, banks have conditions and charges that the Google Pay user needs to find out about.
Inactivity Fee
Google's e-wallet doesn't condition the user to make purchases via Google Pay. You can use the app as often or as little as you want and Google will never charge a single cent. Unfortunately, this isn't true for banks and credit cards.
American Express Platinum and similar cards that are filled with perks and benefits tend to have inactivity fees. Our precaution in this respect is that Google Pay users need to be sure they have a full overview of their cards.
For example, if you have stored five cards and you give preference to two of these, make sure that the other three don't have an inactivity fee or else the bank will charge you for it.
Purchase Fee
Google places few limits on the total amount of money you can store on your card or for making daily purchases.
Its users can't hold more than $25,000 across all cards on the app. Verified users can transact with friends and family to the amount of $5000 over a seven-day period; unverified users can only transfer $500 in the same period.
Google places a limit on total withdrawals over seven days: $20,000 for verified and $700 for unverified accounts. There is an additional limitation to the latter, with a $ 10,000-lifetime cap.
All things considered, Google does not have any fees for its users but does enforce rules which are pursuant by the law for individuals who abuse the service.
Redeeming Fee
Google's wallet can redeem offers from various retailers but doesn't place any fees on the user. Any fee that may appear on your account stored on Google Pay can be traced back to the bank, retailer, gift or rewards card issuer, or the like.
Google Pay Support
Google Pay is all digital, meaning, the e-wallet doesn't have its own customer support center. On the other hand, the Google Pay Help website covers the entire selection of queries one may encounter when using the service. Using the "Search" bar lets you type your question and the famed search engine is pretty good at returning a satisfactory response.
Final Review on Google Pay Sweepstakes Casinos
4.6
Published on 15 Sep, 2023
Players who reach VIP levels can enjoy greater benefits from their casino. Benefits are in the form of extra bonuses for casino games that tend to be more fun and have bigger jackpots.
Jonathan Hill

Review Author
Almost any social casino accepts this payment method since it's so convenient and of reach for any player. It would probably be easier to jump on to the desired sweepstake and ensure it's accepted or just click on our listed toplist.
Easy, Google Pay is one of the biggest e-wallets accepted by Android and iOS mobile devices. It's easy to use, and one of the most, if not the most, reliable e-wallet.
Yes! Not only a good one but probably the best. People nowadays really rely on this wallet since it has revolutionized our lives in the sense of not carrying a real wallet on ourselves, no more bulky-filled pockets, and way more secure!
Yes! Although back in the day, Apple tried to make their whole catalog independent, nowadays, it just wouldn't be wise to exclude such a powerful company as Google is and are now compatible.
Yes, but it's not a big quantity, and they are quite transparent about it, so, at least you know what you are getting into. On the other hand, Google will never charge you one cent if it takes you a long time to make any activity.
Unlock casino offers!
By subscribing, I confirm that I am over 18 and a resident of the United States of America.
I agree to Sweepstakescasino.net's Terms of Use and Privacy Policy.