Top Sweepstakes Casinos That Accept Mastercard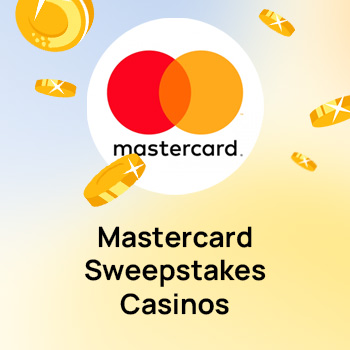 Finding A Mastercard Sweepstakes Casino
The general rule regarding casino payment methods is if the casino takes Visa, it can also take MasterCard. A huge list of sweepstakes casinos accepts the former, and players can use their MasterCard whenever possible. Cards bearing the famous logo are granted fast redemption times, and purchases can instantly appear in your casino account.
Our list includes every sweeps casino that we've tested and vouched for satisfying the standards of pro casino players. Each site has a handful of ways to deposit, and MasterCard is one of them. This card is the perfect alternative to Discover, Amex, and Visa. Your MC card details can be typed in on the payment platform when making a sweeps coins redemption or adding more gold coins.
There is one caveat for those living in Washington state. This US state doesn't permit online gambling, so depositing in a sweepstakes casino is not an option, even if you are a MasterCard user. Residents of all other states are welcome to rely on the information on this page to access new casino bonuses and more.
Benefits Of Mastercard VS Other Purchase Methods
When you enter the social casino of your choice and look at the variety of games, you're likely to think, can I play all these games with a single card? The straight answer is yes.
Casinos allow account holders to buy gold coins with various cards and e-wallets. MasterCard provides the benefit of reliability, security, and speed. Sweepstakes and social casino purchases will appear within seconds, and redemption requests are processed faster than it usually takes.
Across the US, most banks can issue MasterCard cards. The user can download the official mobile app from the bank and use their card while having a full view of every transaction. Users of Google Pay, Apple Pay, and other e-wallets can add their MasterCard accounts for easy use or make contactless purchases.
The company was founded in 1966 and is publically traded on international stock exchanges. It is represented by around 30,000 financial institutions, which provide various point reward programs, cashback schemes, savings, and other benefits for cardholders.
Internationally accepted

Majority of banks issue MasterCard

No1 alternative to Visa

Many casinos offer MasterCard prepaid cards
Fewer perks compared to American Express

Higher interest on credit cards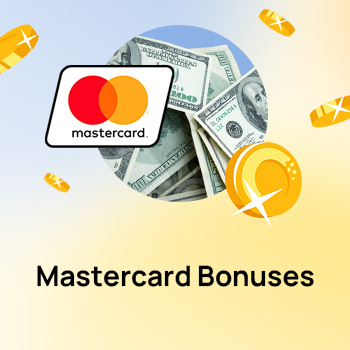 Best Mastercard Sweepstakes Bonuses
In addition to collecting free sweeps coins by mail or when signing up, new and returning players can claim different bonuses and promotions.
Sweepstakes casinos compete with each other by offering exciting signup features like free gold coins, free sweep coins, 100% match on your deposit, free spins and more. Their offers are frequently changed and otherwise diversified to include more services, new slot games and contests.
Finding the best sweepstakes bonus is not difficult, as websites like this link to each operator's latest promotion. Anywhere you look, you will find bonuses with free gold coins, being given upwards of 100,000 when starting a new account. Some casinos give between 20 and 100 free spins for doing the same.
Value-wise, the two may even out, but either one lets you play casino games for a chance to score gold coins and sweep coins. Another popular promotion is the sweepstakes no deposit bonus, which awards the player with a smaller amount of GC or free spins while not requiring making a deposit ahead.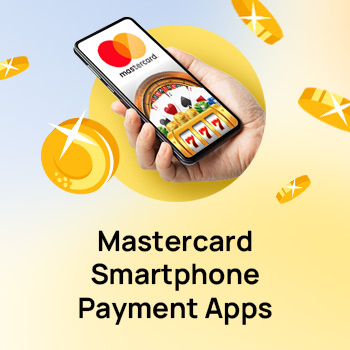 Mastercard Smartphone Payment App
MasterCard has several mobile apps for Android and Apple devices. Cardholders may be asking the question, why so many kinds? This is to match the right needs with the right app. Business account holders can download the MasterCard Smart Data app, which is a complete dashboard for finance and expense reporting.
Personal and business users alike can utilize the Pay with Rewards app if they are subscribed to one or more of MasterCard's rewards programs. The app gives an overview of collected points, redeemed points, retailers, and other options.
The number-one download in regard to apps from this company is the MasterCard payment app, also called "In Control." The app works like any good e-wallet, except it is native to MasterCard. Users can store one or multiple MC cards from different issuing banks to use for purchases at retailers or online.
MasterCard In Control allows easy transfers between private users while providing top-level security infrastructure. People who rely on Google Pay or Skrill will have no issue finding their way around this app. Another added benefit is connecting with other payment apps like Google or Samsung.
How To Purchase Gold Coins Using Mastercard
The company has updated its cards to include the contactless payment chip, which adds another option besides swiping your card when shopping in stores.
Customers around the world carry their credit cards or cards from this company because it is accepted everywhere, including real money casinos, from New Jersey to Nevada.
To purchase your gold coin package, you need to select the number of coins, click or tap the screen and proceed by selecting the debit or credit option. The famous double-sphere MasterCard logo should appear on the virtual payments screen.
The rest of the process is standard as in any online purchase. The bonus claimant or returning customer must enter the card number, first and last name, expiration date, and the three or four-digit code from the back of the card.
Pressing the button to proceed will complete the payment, granted all the information was entered correctly or the card's expiration date is still valid. When the order is validated, the player will see the number of gold coins in their balance. This is the final validation of a successful transaction.
How To Redeem Sweeps Coins For Real Prizes Using Mastercard
Sweeps casinos that accept Visa as a method for redeeming coins can also accept MasterCard. To make your sweeps redeeming request, press the Redeem or Payments button from the menu or the upper-right corner of your computer.
Sweepstakes casinos allow coin redemptions to personal accounts only. If your bank has issued a MasterCard debit account, you will be able to redeem your coins to that account.
The funds available for redemption are displayed on the screen, and you can choose how much to redeem.
Note that most casinos have a minimum, but the amount is inconsistent across all casinos. Nevertheless, the typical conversion rate is $1.00 for each sweep coin. Most social casinos have a maximum of 50,000 sweep coins that can be redeemed in one transaction and a minimum of 10.
Verify Your Account
Sweepstakes casinos don't require personal documents when opening an account; however, providing a personal ID is required for account verification when submitting a sweep coins redemption request. The casino may need more than your government-issued driver's license or ID. Documents like passport proof of citizenship are also an option for the casino.
The verification process is required because those 18 or older can legally open accounts at sweeps casinos (check your state and desired Sweeps Casino since age might vary). As we mentioned above, someone residing in Washington will be barred from redeeming their winnings because that state is excluded through its online gambling regulations.
Players must fulfill the legal requirements and match their credentials on the account with those on the banking account and/or address only once. Subsequent requests to redeem winnings will be processed by the casino automatically.
Mastercard Redeem Processing Time
MasterCard is the world's second most frequent payment method and enjoys fast processing times at sweepstakes casinos. Casinos require two working days to process the request before extending it to the bank that issued the MasterCard account.
The bank may take one to five working days to process the request. We outlined above that account verification is part of the redeeming process, and it may prolong the time until the player receives their winnings. Conversely, verified accounts have expedited processing.
Mastercard as a Purchase Method
Consumers across the United States have enjoyed the reliability and benefits of MasterCard. This method is a given for those participating in online giveaways, playing global poker, scratch carnival, and betting online on horse racing, lottery, and slot machines.
Simply put, the market welcomes individuals who use MasterCard as their preferred card. It also helps that the company and its associated banks provide benefits to cardholders.
Unfortunately, collected points and cash awards are not accepted as a payment model at online casinos, so sticking with the standard gold coin package paid by card online is the best way to play sweepstakes slots and casino games.
Sweep casinos that accept MasterCard have to be legally registered to provide game of chance in the US. Therefore, the MasterCard logo is a big validator in the online casino industry and is generally taken as proof of confidence by the players.
Mastercard Service Charges
From the start, we must distinguish between MasterCard debit and credit cards. The former is related to your personal banking account, and there should be no fees associated. Banks usually place overdraft fees for users who make ATM withdrawals that are beyond their available funds. Another common fee is for cash withdrawals outside the bank's network of ATMs.
On the other hand, the various kinds of MasterCard credit cards tend to have more than a few charges that are common for most banks. The obvious one is APR, or the Annual Percentage Rate, which factors in after the introductory period of zero or low-interest rate. Another charge is for cash advances from ATMs. In this case, the issuing company will charge a steep fee for taking out cash from your credit card instead of a debit.
International charges are common when purchasing in a foreign country, although some MasterCard cards offer lower or no fees on foreign spending. Conversion rates are an inevitable fee when using your domestic currency account or card to pay for goods or services marked in an international currency.
Concerning online casinos, if you are a resident of the United States and want to buy casino coins at your sweepstakes casino with your MasterCard debit, chances are that there is zero fees on that purchase.
Inactivity Fee
Individuals with few or more cards at their disposal risk incurring a dormancy or inactivity fee. This fee is usually charged when the card hasn't been used in a year or longer.
Note that some banks may charge this fee following a six-month dormancy period. The fee isn't significant, but why pay it?
This mechanism enables card providers to inspire usage or cancellation of the card. If you have a MasterCard, which you don't often use at all, buying a gold coins package will do away with the inactivity fee for that year.
Purchase Fee
Purchase fees are uncommon on the part of the person who is shopping from their personal or business account. Retailers and service providers, including online casinos, do pay fees to the financial institution for processing purchases. These range between 1% and 5% but are no concern to the shopper.
Regular MasterCard purchases don't involve fees unless you are shopping in a foreign country. Gold coin purchases at a sweepstakes casino are likewise free of fees if the purchase is made with a US-issued MasterCard.
Redeeming Fee
Online casinos strive to avoid charging their customers fees. Their commitment is best demonstrated by offering lucrative welcome bonuses and fee-less withdrawals. The majority of casinos don't have a withdrawal/redeeming fee. Players can redeem sweep coin winnings to their MasterCard account or a prepaid card without a fee.
Two limits need to be observed. One is the minimum amount that can be taken out from the casino in a single day, which is 10 sweep coins. The other is the maximum amount per redemption, which can range between 2000 and 10,000 coins.
Mastercard Support
Banks that work with MasterCard debit and credit cards offer high-level customer support. This is especially true for big banks offering telephone and live chat support. Of course, customers always have the option of visiting a local branch for inquiries. Most people, however, prefer to use direct calls or live chat.
The MasterCard mobile app is also a significant source of indirect support by providing a free account overview, history of transactions, savings, notifications for withdrawals and payments and other services.
These options are useful when someone is expecting a deposit based on redeemed coins. Instead of contacting the casino, which has slower customer support, the bank's app can immediately inform the user about a transaction.
In addition, the mobile app has readily-accessible information like credit limit and fees, as well as the current annual percentage rate and interest on payments for MasterCard credit cards.
Mastercard Sweepstakes Casinos
4.5
Published on 15 Sep, 2023
As we've concluded, MasterCard is at the top of the payment services pyramid. Our casino experts rely on this service to test casinos, play slot games, bet on sports, and other forms of iGaming entertainment. MasterCard has provided reliability, security, and a near-real-time overview of transactions.
This card company has become widespread to the extent that it can now provide sweeps casinos with their own prepaid cards. Bearing the MasterCard logo, of course. In conclusion, this payment method can offer great versatility when it comes to online casino gaming, whereas many other services can't service new casinos.
Jonathan Hill

Review Author
Debit accounts that are connected to a MasterCard are free of additional charges for purchases online or in stores. On the other hand, credit cards may have an apr fee, over the limit fee, late fee and other.
MasterCard is accepted by Chumba Casino, Bet Rivers, Pulsz Casino, Global Poker and others that are listed on this page.
MasterCard has few mobile apps for different uses. The best app to use for your MasterCard is the one associated with the issuing bank.
Some casinos have special promotions when buying gold coins with their own prepaid MasterCard. The promotion and its benefits are listed on the page or communicated via email by the casino.
The so-called Chumba Card is a prepaid MasterCard that players can apply for on the Chumba Casino website. The Chumba MasterCard is available to any player who has opened an account with the casino.
PayPower is a prepaid MasterCard that acts as a bank card. The card can be loaded with funds from various bank accounts for the purpose of online or retail shopping. The PayPower prepaid MasterCard is flexible for casino purchases, unlike cards issued by some banks.
MasterCard is among the top financial institutions in the world. Transactions with your MasterCard are made through security protocols to prevent theft and fraud. Although no security mechanism is 100% breach-proof, MasterCard is considered a safe payment method.
Sweep coins that are redeemed on your MasterCard can take between one and five days. In some cases, when the player's account has been previously validated, the transaction can appear in a shorter period of time.
Unlock casino offers!
By subscribing, I confirm that I am over 18 and a resident of the United States of America.
I agree to Sweepstakescasino.net's Terms of Use and Privacy Policy.