NEED TO KNOW
Little Shop of Horrors Slot Details
Plenty of exciting bonus features

Great RTP that comes in above 96%

Five progressive jackpot prizes increase the win potential
As a predominantly land-based slot, it's not easy to come across the online version

Some players might not be interested in the theme
GAME VISUALS
Little Shop Of Horrors Slot Gallery
ALL ABOUT THE GAME
Little Shop Of Horrors Slot Review
Everi has adapted the cult classic into a horror-tastic video slot packed with many win potential and exciting twists and turns. Little Shop of Horrors slot can be played in most land-based casinos across the US and is also available at leading online casinos. Three bonus features – the Suddenly Seymour Respin, Somewhere That's Green Pick, and the Mean Green Mother Free Spin – all of which add to the outrageously cheesy experience. Let's take a closer look at how this bloodthirsty plant can bring good fortune, fun, and a hefty dose of fear!
Little Shop Of Horrors Slot Theme
Based entirely on the musical/movie "Little Shop of Horrors," we follow a down-on-luck New York florist who purchases a mysterious plant that turns out to be a sentient, bloodthirsty nightmare. Of course, the Everi slot takes a summarized approach, reeling players in with memorable scenes from the 1986 movie and stylized icons that snap and flash as they dole out prizes.
The game's theme seems to jump into the middle of the movie when Audrey II has already begun manipulating and feeding. There's a feeling of frenzy as players spin this slot machine to win but also to feed Audrey II's insatiable thirst. It's pretty hard to turn a movie with such a cult following into a slot, but Everi nailed it. Between the frequent movie clips, a very animated and engaging Audrey II, and the entertaining soundtrack, this game offers casino players the advantage of being fun, action-packed, and very prize oriented.
Little Shop Of Horrors Game Mechanics
The Little Shop of Horrors slot comes with 5 reels and 30 paylines in a pretty familiar format. The game runs on a standard payout system with three or more matching symbols on a payline generating a payout. While not every symbol on the grid carries a high value, you'll make regular winning combinations thanks to the generous 96.1% RTP figure. Remember that this can fluctuate depending on whether you're playing online or land-based.
But it's not about base game wins, as these only keep you chugging along. Your focus should be entirely on triggering any of the three bonus features and the five progressive jackpot prizes. These jackpots can be won if you're lucky enough to land a full screen of Wilds, Seymours, Audreys, Mushniks, or Chorus Girls. Continuous spins will increase the value of the jackpot prizes as you play, so there's value in sticking around for a longer session.
The game suits all player bets, with a minimum bet of $0.70 and a maximum bet of $375 per spin. The higher you spin, the greater the win, but a lower-risk strategy would work very well with the Little Shop of Horrors slot.
Little Shop Of Horrors Gameplay And Symbols
Across the five spinning reels, players will be delighted by several immersive symbols, including wilds and bonus symbols. In lurid greens, reds, and purples, players will be treated to scenes from the movie in between spins. You'll see the main characters transformed into symbols across the grid, including Seymour, Audrey, Mr. Mushnik, and even the three-girl chorus who narrate the movie's plot. Simpler icons join the cast, like a newspaper announcing Audrey II's growing fame, a daisy losing its petals, a red rose, and an axe.
Audrey II is surveying the carnage from above the grid, animatedly reacting to the outcome of each spin. Landing Wilds and bonus features will feed Audrey II, and you can watch the carnivorous plant grow, blow kisses and make hilarious remarks like "now we're cookin'" and "more more more." The excitement picks up when you get close to triggering bonus features, and for a good reason, because that's where the big wins make a welcome appearance.
Little Shop Of Horrors Bonus Features
This slot game comes jam-packed with exciting bonus offers and features, including free spins and progressive jackpots to help you to walk away with a mighty cash out. There's no chance of getting bored with the Little Shop of Horrors slot because the bonus features and random payouts come thick and fast, offering insane entertainment value. There are three main features, and we'll give you all the juicy details, so you know exactly what to look out for on every spin.
Quick Pick Bonus
There's no telling when the Quick Pick Bonus will hit. It's a randomly triggered feature that comes after any base game spin. When it's active, it will open the door to a new set of themed mini-games while also offering you access to all five progressive jackpots. If you're lucky enough to land this feature, you can choose from 5 different icons, each concealing a different prize. Will it be an instant progressive jackpot win, a cash prize, or instant access to the 'Somewhere That's Green' pick bonus?
Pick Bonus
The ultimate goal of this bonus feature is to trigger Audrey's Dream Wheel, which spins and rewards you with instant prizes and extra spins. To get there, you need to start by landing three Bonus symbols, and then you'll set things into motion. The feature kicks off with 20 pick options that appear on the grid. You have five chances to choose from these with the hope of flipping over Audrey's blonde image. Manage this, and you'll launch the Dream Wheel for a decent balance boost.
Free Spins Game
Audrey II is always alive and feeding from its permanent position above the reels. The more you win, the more you fatten this beastly plant up. Get enough wins, and you'll satisfy it enough to unlock five free spins. But it doesn't stop there. The free games have built-in nudging Forever Wilds, which are the key to accessing extra free spins up to a maximum of 30. It's an incredibly exciting feature with the potential of massive wins straight to your cash balance.
Little Shop Of Horrors Slot Tricks
This is a safe, regulated, and super fair slot. That means there are no clever tricks to get you to that prize pot. It all comes down to lucky spins and base game wins to tide you over as you wait for the bonus features to hit. One of the bonus features is random, so any base game spin can see you propelled into unexpected prizes. Because Little Shop of Horrors features a win accumulator for Free Spins, it could be worth reducing your bet size and hanging around to hit those free games.
YOU MIGHT ALSO LIKE
Games Similar To Little Shop Of Horrors Slot
Little Shop of Horrors Sweepstakes Slot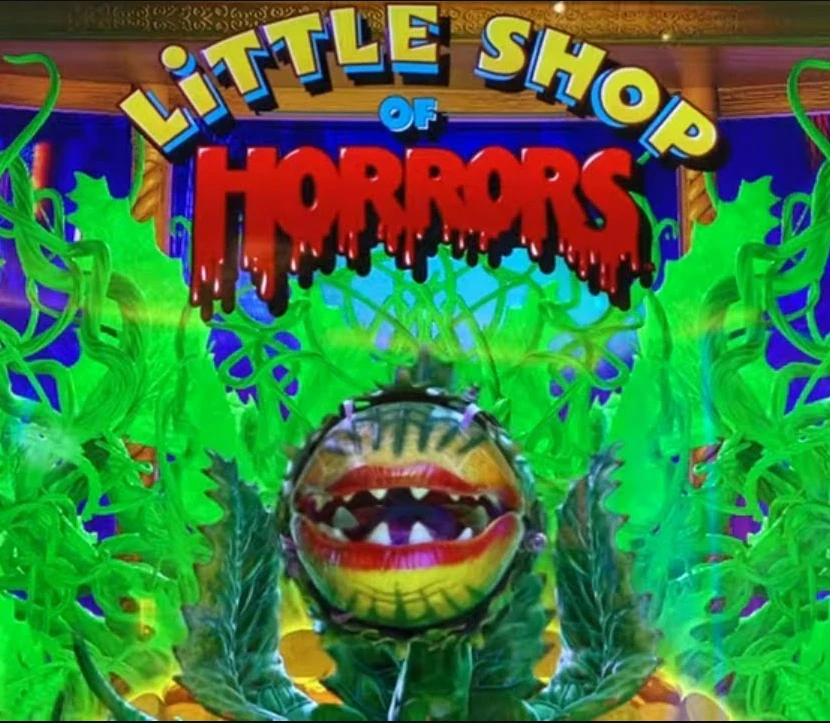 4
Published on 13 Sep, 2023
Everi is a game provider that works hard to take players beneath the surface when it comes to slots. Between the soundtrack and the fantastic design, the game stays true to its 80s horror roots, delighting those who already had a soft spot for this iconic film, and making new fans of those who've never experienced it. Currently, the Little Shop of Horrors slot is dominant in US-based casinos, but it's already growing in popularity and making a big online casino splash for US players. The game is packed with title tracks from the movie, and the music keeps you glued to the reels.
Jonathan Hill

Review Author
Little Shop Of Horrors Slot FAQs
For now, you can find it on almost every land-based casinos, but when it comes to online, you can only play it for free as demo on some popular operators.
For now, there is not an app, or a casino app that displays this awesome game, we are hopeful that eventually there will be an online game version, and to be able to play it as an app on your mobile device.
It has a pretty cool RTP, 96% exactly, so you are in for a treat.