Big Fish Casino Details
Website
https://www.bigfishgames.com/
Payment Methods
Visa, MasterCard, American Express
The casino offers a range of features aimed at encouraging connections between players, including the ability to invite and play with friends, join clubs and send gifts. The site is all about enjoying the thrill and success of playing casino games online, hitting jackpots and interacting with other players if you wish to, without having to stake any real money.
Signing up for an account at Big Fish is an easy process, so you can get playing quickly. There is a wide variety of classic casino games to enjoy, including slots, blackjack, roulette and video poker, as well as word games, matching games, mahjong, puzzles, brain teasers and strategy games. You will be given some bonus chips on signing up and can choose whether to top up your account at a later date.
As this is a social casino, you are playing for fun. You get the opportunity to earn, win or even buy virtual chips to play with. Players can also buy gold bars that give access to higher VIP levels and unlock more games. Each new VIP level unlocks more of the casino's features and benefits.
Wide range of games to play

Can be accessed on any device

Good bonuses and promotions available

Lots of options for social play and connection
Limited number of banking options

Some account levels have restrictions
Big Fish Casino No Purchase Bonus
At Big Fish, players gamble with virtual chips, the first set of which you will be given on sign up as a no-purchase bonus. There are no strings – you do not have to make any kind of financial commitment to claim them. As soon as you register an account, you will receive your no-purchase welcome bonus of 100,000 chips. This is more than enough to try out the casino, play a variety of games, and see if you want to continue playing at Big Fish.
Other Bonuses At Big Fish Online Casino
After you have collected your first no-purchase bonus of 100,000 chips, you can spin the wheel to collect a further random bonus. Following that batch of spins, there's another bonus offer that can generate a further 2,000 chips every 31 minutes.
Every time you place a stake on a game, you earn additional experience, which allows you to progress to ever-higher levels. This in turn grants bigger and more regular bonuses along with access to more casino games and higher betting limits throughout the casino.
In addition, there are many bonuses that can be granted to players when they play a specific game, as well as random bonuses when you are least expecting them. It sometimes feels as though almost any action you take on the Big Fish site can trigger a bonus or reward. The fact that there are so many ways to get rewards is, of course, a great feature. In fact, Big Fish claims that it gives away 16 billion chips to its users each day, so it is hardly surprising that players feel like they are constantly winning.
Big Fish Casino Bonus Codes
Players can also use Big Fish Casino bonus codes to buy games and add them to their collection. Once you complete the Big Fish sign-up process, you can expect to be sent some of these special Big Fish bonus codes by email. Don't ignore them, as they can be used to lower the price of any game that can be bought via the site.
Big Fish Casino Games
There is a great choice of games available at Big Fish Casino and they are powered by Big Fish Games. As at most regular online casinos, slots make up the biggest section of the site, with new titles constantly being added to keep things interesting. You will also find a range of card and table games, including different versions of blackjack, roulette and poker, along with other games that are not generally found in a typical online casino, such as word games and brain teasers.
The games are simple to play and are generally very high quality in terms of the features and graphics, similar to any slot you might expect to find at a pay-to-play casino. Some games can have restrictions that depend on your account level, so you will see that the games you have access to increase and change as you work your way up through the levels. This is a social casino, so as you might expect, you can play some games such as poker with other real people on the online platform.
Try Out These Games At Big Fish Casino
Purchase Options At Big Fish Online Casino
Big Fish Casino actually has three different types of 'currency' that can be used within the platform. These are gold bars, chips and tickets.
How To Buy Gold Bars At Big Fish Casino
You can earn or collect gold bars for free, or you can buy them from the casino's shop. Free gold bars are rare. Most of the Big Fish currency that is given away is awarded in the form of chips, but occasionally gold bars are awarded to players through promotional links in emails sent to users, or on the casino's social media pages. Some Big Fish slots also award gold bars to players in their bonus rounds. Slots that offer gold bars are Aztec Gold, Treasures in Time and Big Fortune Valley.
Winning gold bars is not your only option, however. You can also buy gold bars in the Big Fish Casino shop. Just click on the 'Get Chips' button in the upper right-hand corner of the lobby to get to the shop. Both chips and gold bars can be purchased here. Each gold bar package will also include VIP points to help you reach the next level, and tickets, which you can redeem at the Reward Center. A purchase of $5 or more spent on gold bars will automatically give you VIP Level 4 benefits. When you have VIP status, you'll get early access to new slots, as well as immediate access to the Big Fish VIP Slots.
Once a player has their gold bars, you can trade an amount for chips or for fun gifts that you can keep for yourself or send to others using the 'Send Gift' button. You can send a gift to an individual or you can choose to 'Buy a Round' for your fellow players, which will send a gift to everyone in the room you are in, including yourself.
How To Get Free Sweeps Coins On Big Fish Online Casino
Unlike many social casinos, Big Fish Casino does not actually offer Sweeps Coins within the site and does not promote sweepstakes games as part of its day-to-day activities. As already mentioned, the three forms of currency in practice at Big Fish are chips, tickets and gold bars.
How To Redeem Sweeps Coins For Cash Prizes At Big Fish Casino
When Big Fish Casino does run sweepstakes, they are generally promoted on its Facebook page and its Instagram account (@bigfishcasino). A typical sweepstake at Big Fish might consist of, for example, 10 winners each receiving a $200 gift card, for a total prize value of $2,000. The sweepstakes terms are linked from the Big Fish's Casino Facebook page. However, if you are looking for a sweepstakes casino where you can regularly exchange any amount of coins for prizes, Big Fish is not for you. Unlike some social casinos, the option of a sweepstake seems to be an occasional perk, not a regular part of the casino's business model.
Banking Options At Big Fish Online Casino
You have a few payment options when you want to purchase from the Big Fish Casino store. Depending on where you live, you can use Visa, Mastercard, American Express, Bitcoin or a few other payment providers. Those playing on mobile apps have it easiest as they will generally be able to make in-app purchases via their app store balance.
Customer Support At Big Fish Online Casino
You can access customer support at the Big Fish Online Casino via its Facebook page. You can also click on the support button on the site or within the app to access the FAQ section, get up-to-date information on things such as new game releases, or search for the answer to any specific questions you may have. There is no direct customer support phone line or live chat at Big Fish at the time of writing, which is something that we found lacking.
Summary: Why you should sign up to Big Fish Casino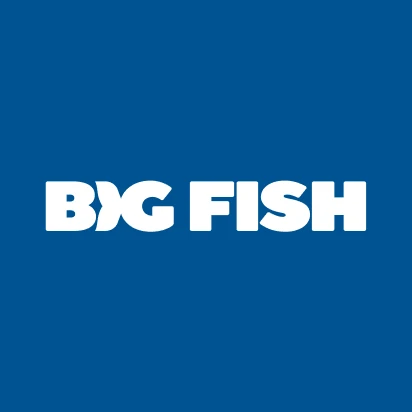 3.7
Published on 13 Sep, 2023
As our Big Fish Casino review has shown, the site provides a great social casino environment and a fun and easy way to enjoy popular casino games, tournaments and other online games for free. Backed by the well-established and successful software producer Big Fish Games, the titles that are on offer generally provide very high-quality thrills and are a lot of fun to play.
The site includes great themed slots, card and table games, and the chance to play with friends or make new friends in the gaming rooms. The casino works online but is aimed at mobile players and has robust, well-developed apps that make gaming on the go a pleasure. Big Fish is also one of the oldest and most well-established social casinos in the online gaming world.
Jonathan Hill

Review Author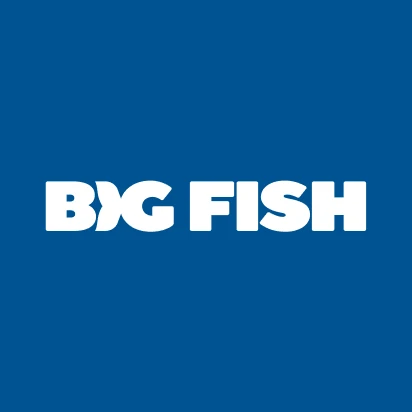 Sign up and get 100,000 FREE Chips!
Play Now
Big Fish Casino is a social casino, so you do not play with actual money and cannot cash in your chips for real money either.
The games at Big Fish Casino are similar to any other casino games. Follow the rules of each individual game and see if you can land a win.
Crowns represent club points at Big Fish Casino.
You can get VIP points on Big Fish Casino by buying gold bars and chips, or by leveling up via your activities on the site.
Yes, at time of writing, Big Fish Games is still very much in operation.
Big Fish Games has been in operation for over 20 years and is generally considered to be a trustworthy company.
Yes, Big Fish Games is still producing casino games.
The casino brand is owned by Big Fish Games.
It is free to sign up at Big Fish Casino or download the app, but players wanting to unlock more features can join the Big Fish Game Club for US$6.99 per month.
Simply go to the site (or download the app) and click on 'Account'. Then follow the prompts.
It used to be possible to play Big Fish Casino games directly from its Facebook page. This is no longer the case and you are now encouraged to download the apps or make a free online account in order to play.
Unlock Casino Offers!
By subscribing you confirm your are over 21 years old and agree to receive casino offers via email. You can unsubscribe at any given time. Please read the Privacy and Cookie Policies for more details.