NEED TO KNOW
Triple Diamond Details
Game Studio
IGT (Wagerworks)
Graphics and functionality of the slot are excellent

Classic, traditional feel of this slot

Multiplier symbols allowing you to win 2x, 10x, 100x
Many three-reel slots only include only one payline
GAME VISUALS
Triple Diamond Slot Gallery
ALL ABOUT THE GAME
Triple Diamond Review
The game is a three-reel slot with a total of nine paylines. It features multiple lines that can create a win, including straights, diagonals and V-shaped lines. The game features classic slot symbols that we are all used to seeing on slot machines, such as bar symbols in various colors and 7s. It also has the Triple Diamonds symbol, which the game obviously takes its name from.
The Triple Diamond slot game can be played on desktop or mobile, and it can be found at numerous online casinos. If your favorite online or mobile casino carries the IGT catalog of games, you may well find the game available there. You will generally find that casinos allow you to play Triple Diamond for free, either just for fun or to try it out.
Triple Diamond Slot Machine Features
The Triple Diamond slot machine has low to medium volatility and a Return to Player (RTP) percentage of 96.09%, which is within the average range for an online slot. Although this is a very simple slot, there are nine paylines available, and there is a jackpot of 1199x your stake. The maximum stake on the Triple Diamond slot is 100 coins.
Like many classic three-reel slot games, Triple Diamond does not have a bonus round. In fact, the game really doesn't have a lot to offer in the way of bonus features. It does, however, have a Wild symbol, which is the Triple Diamond logo. This symbol can help players create winning lines, as it can substitute for all other symbols in the game. In addition, the Wild can act as a multiplier. There are also other multipliers in the game, offering plenty of chances for some extra fun and winnings even though there is no actual bonus round and no free spins available.
Triple Diamond Casino Slot Gameplay And Symbols
To get started with playing Triple Diamond slots online, you simply have to choose how much money to stake and start spinning the reels. You will need to set your coin value to between the minimum of 25 and the maximum of 100. Up to 45 credits can be staked per spin, which includes up to five credits per line.
The gameplay itself is fairly straightforward. To win, you just have to match a minimum of two symbols on a payline. If you match three of a kind, you will win a bigger prize. Your chances of matching symbols in Triple Diamond are better than in some online slot games, simply due to the relatively low number of symbols.
The game has only a few symbols, each with different scores. The score for each symbol is indicated on the paytable. The different credits for the different symbols are as follows:
2 credits for a one-diamond symbol
10 credits for a two-diamond symbol
2000 credits for a three-diamond symbol
100 сredits for three 7s
40 credits for three yellow bars
20 credits or three purple bars
10 credits for three blue bars
5 credits for three black bars
The main symbols in this game are the colored bars and 7s. Then there are the diamond symbols, including the Triple Diamond logo, which acts as a Wild and can replace another symbol on a line to form a win. The Wild symbol can also act as a multiplier, but so can the colored bars and 7s symbols, with a different calculation applied to each symbol.
Triple Diamond Slot Machine Bonuses
While there is no Triple Diamond slot machine bonus round, no free spin feature and no real Triple Diamond slot machine bonuses as such, the game does offer Wild symbols, which you should definitely pay attention to.
Remember that landing one Wild symbol on any of the reels multiplies it by two. Two wilds will give you 10x your betting line, and three wilds result in a jackpot win of 1199x the betting line. Your total jackpot value will of course depend on how many coins you have at the point in the game when they are multiplied 1199x. There are also multipliers available for the bar symbol and the 777 symbol. For example, the 777 symbol gives you 100x your stake.
Tips For Playing Triple Diamond Casino Game
Playing the Triple Diamond casino game is not hard. You just need to choose your stake and spin the reels. There are no real tricks or tips for playing the Triple Diamond casino game because, like a lot of classic slots, it is a very simple game and completely random. There is not a lot you can do to affect the outcome. There are, however, some things you need to remember.
You can stake as little as 25 coins or as much as 100 coins. Because wins are paid out as multipliers of your stake, the higher the stake, the higher the potential win. The highest payout possible is 1199x your stake, which can work out to a maximum of $311,923.50.
Keep in mind that this is a game with low to moderate volatility. There are relatively few symbols to match, so you can expect them to match more frequently than would be the case with a more complicated machine. This means that this slot can generally be expected to pay out winnings fairly frequently, although the wins themselves may be quite modest. It is up to you to decide if this is a style of game that you enjoy or if you would prefer something with higher volatility. If you're not sure, you will probably want to play Triple Diamond for free first to see if this is a game you want to invest real money in or not.
YOU MIGHT ALSO LIKE
Games Similar To Triple Diamond
Triple Diamond Sweepstakes Slot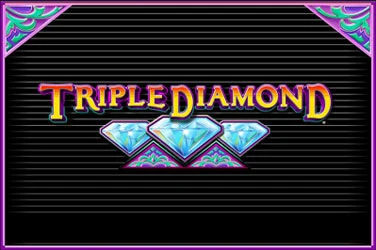 4.425
Published on 13 Sep, 2023
While the thrill of winning big money is the main attraction of playing online slot machines for many players, some players also like to play slots for free. Most online casinos that offer the Triple Diamond slot in their lobby will offer the opportunity to play both the free and paid version of the game. So why would you choose to play Triple Diamond slot machine for free? The answer to that varies from player to player. Some individuals simply like to play for fun and entertainment and see how long it takes them to hit a payline without actually having to part ways with any of their money. It is also common for players to spin slots for free to try out a new game, to find out how it works and simply to see if they enjoy playing it.
The Triple Diamond slot game is not actually that hard to play, and the rules and payouts certainly aren't that complicated, so it may not really be necessary to play it simply to 'practice' or find out how it works. Nevertheless, some players will enjoy playing the free game and seeing how enjoyable it is. They can use their trial run to see which symbols to look out for to hit the paylines, along with which multipliers offer the best results. If your casino offers the free version of Triple Diamond, you will be able to play 'just for fun' for free for as long as you want, or maybe you may just want to try out a few spins before deciding whether or not to play with real money.
Jonathan Hill

Review Author
Yes, you can play Triple Diamond online at many online and mobile casinos, and you can usually play either the free or paid version. Check out whether your regular online casino has the game in its slots lobby. If you want to play for free, many casinos will let you do so without first registering for an account. To play for money at a new casino, you will of course have to make an account and put some funds in it.
Plenty of online casinos offer the Triple Diamond casino game. It is available at Catsumo, Dream Vegas and Mansion Casino, for example. You can search for the game by name at your regular online casino or, if you are browsing through the provider list, you will find it listed under the studio International Game Technologies (IGT).
If a casino has Triple Diamond listed, it will usually allow you to play it either in the free mode or the real money mode. See the list above highlighting some of the casinos that allow you to play Triple Diamond Slot Machine for free, often with no download and no registration required.
You certainly can. Triple Diamond can be played on mobile devices, so you can play this slot at a mobile casino or via the mobile version of your regular casino as long as it has the game in the lobby. The slot can be played on smartphones and other mobile devices, and it is compatible with both iOS and Android devices.
You can, but there is no real need to download the game unless you want to. You can play the Triple Diamond slot machine game online for free at most casinos, so you don't need to download and install any specific software for this game. The exception to this is if you would like to download the mobile app.
Yes, there is a Triple Diamond slot app, which is available from the Google Play store for free. There is also a Triple Diamond slots app available in the Apple App store, but it is not available in all regions.