NEED TO KNOW
China Shores Slot Details
Game Studio
Konami Gaming
Great free spins and free games feature

Solid RTP rate of 96.1%

Autoplay feature for longer playing sessions

Excellent slot game for beginner players
Outdated graphics

The pay line quantity is comparatively low

Progressive jackpot not as high as some slot games

Lack of advanced bonus features
GAME VISUALS
China Shores Slot Gallery
ALL ABOUT THE GAME
China Shores Slot Review
Konami has a long history in the games development industry that stretches all the way back to the late 1960s. Although it originally got its start in the jukebox rental and repair business in Japan, it quickly pivoted to arcade and casino games when technological advancements in the 1970s popularized this revolutionary new technology.
Since then, Konami has evolved into a multinational conglomerate with offices and subsidiaries spread across the world. While it might be better known for its video game classics such as Metal Gear, Silent Hill, Castlevania and Yu-Gi-Oh!, among many others, Konami has also developed its catalog of online casino games into a lucrative business.
Konami has casinos spread across the world and runs this business out of Nevada in the US. Through this wing of the business, it has developed and released hundreds of casino games, with a particular focus on slot games.
It is in this context that Konami released the China Shores slot machine game, which has since grown to be a fan favorite and has spawned a total of nine games in the franchise.
However, with so many other Asian-themed slots out there, how does China Shores separate itself from the endless number of competitors out there? This review attempts to provide an answer to that question. Read on to discover all the information you'll ever need about China Shores.
China Shores Slot Machine Features
China Shores sweepstakes slot machine is an Asian-inspired five-reel slot with a total of 30 paylines up for grabs.
It has an RTP of 96.1%, which is fairly standard for a classic five-reel slot format.
In terms of the extra features on offer, there is nothing too out of the ordinary. There are plenty of action-packed symbols, each of which features bright graphics and blends well with the Chinese theme. There are plenty of free spins, with wilds, scatters, and jackpots proving to be a regular enough occurrence on the lines!
In terms of the overall look and feel of the game, as you might have guessed from the name, it is clearly based on the designers' dreams of China. While the graphics do look a little bit on the vintage side compared to some of the more recent titles we have seen come out in the last few years, they are nevertheless well executed.
There are plenty of vibrant greens, glittering golds, and ruby reds to keep things interesting on screen! The symbols on the reels also pay homage to their Asian roots, with paper lanterns, yin and yang symbols, pandas, and golden turtles all making an appearance.
It is also important to note that China Shores only features 30 pay lines. This means that the action might not be as frantic as you would have experienced when playing other slots. It also means that you might go longer without striking a bonus, so patience will definitely be an important virtue when playing the China Shores slot machine!
China Shores features five reels and three rows, so the gameplay is pretty much what you would expect from this format. While the stakes tend to be on the lower side, the game features a nice progressive jackpot to keep things interesting. The potential to win a massive fortune on a spin is always tantalizing after all.
The most lucrative symbol is the Chinese inscription symbol, which flashes up on screen in gorgeous gold and crimson whenever it strikes. After this, the golden tortoise is a welcome sight. If you happen to land five of them, you will score 500 coins. Following this, the Chinese lantern nets you 250 coins.
Wilds are activated whenever you land on a panda symbol. A wild substitutes for everything except scatters. These typically land on reels two through five, so be on the lookout!
Generally speaking, the action can get pretty intense. However, when compared to some of the other titles out at the moment, the China Shores slot machine never feels overwhelming. This is certainly helped by the 30-payline limit, which helps to tone down the action. For beginners in particular, this makes it a good place to start!
China Shores Slot Machine Bonuses
In terms of the bonus features on offer, there are both free spins and free games available.
If you score three, four or five yin and yang symbols, you can win eight, 10 or 15 free games. Any wins you make during these games will double your winnings! Free spins can be retriggered during the bonus round and will shower you with bonuses if you are lucky enough to land the correct positions.
As China Shores only has 30 paylines, there tends to be a bit of downtime between bonuses. With this in mind, try not to get too disheartened if you experience a bit of a drought!
Tips For Playing China Shores Slot
As with any other slot game you might play online, there are a few general tips you should keep in mind to get the most out of your playing experience at sweepstakes casinos.
The first of these relates to the autoplay feature that China Shores offers to players.
Although the autoplay feature is useful in longer playing sessions, you should always use it carefully. In particular, we would recommend setting it to run for fewer rounds in case you forget that it is running in the background. Always pay careful attention to what is happening on screen, even when the autoplay feature is running.
Another useful tip relates to bankroll management. Regardless of whether you are playing for a longer or shorter session, you should always pay careful attention to your bankroll. Set yourself a playing budget for the day and try to stick to it as closely as possible. Always have a set point at which you will collect your payouts, take your winnings for the day and log out when you hit that threshold!
Both of these tips will be particularly useful when playing China Shores as it only has 30 paylines. This means that you might go longer between wins and bonuses than you would on games with more paylines. As such, keeping track of your bankroll and watching the autoplay mode will be really important in longer playing sessions.
YOU MIGHT ALSO LIKE
Games Similar To China Shores Slot
China Shores Sweepstakes Slot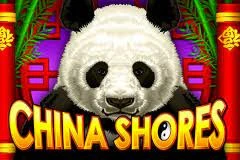 4.2
Published on 13 Sep, 2023
Overall, China Shores is a solidly put together online slot, and even if it feels a little bit dated by the standards of some of the newer games that have been released in recent years, the Konami touch is clearly present in every aspect of the game.
We were particularly impressed by the overall aesthetics of the game, which definitely have that Konami flair to them. Although they might look a little bit old school, we personally love the retro look and feel!
In terms of how it compares to the numerous other Asian-themed online slots, the playing experience is easily on par. The classic five-reel format delivers plenty of action, and with 30 paylines to play for, this is an ideal slot for online casino players with less experience.
The RTP of 96.1% delivers plenty of action over the course of a few rounds, and wilds, scatters and jackpot symbols help to keep the action feeling intense – albeit in a relatively manageable way. It strikes a decent balance between excitement and relaxation. Of course, if you want to move on from playing for free to playing for real cash, a casual player can still get a decent amount of money out of it with a little bit of luck.
With all that said, if you are looking for an online slot that delivers plenty of action and a little bit of retro charm, the free China Shores slot may be the right one for you!
Jonathan Hill

Review Author
As one of the more popular online slot machine games that Konami has put out since it first entered the online slot space, China Shores is readily available at most major online casinos. And with eight other games in the franchise, there is plenty more action once you finish with China Shores classic!
There are numerous online casinos that provide access to the China Shores online casino game. For a full list of these casinos, see the table provided in the above article!
As one of the most popular online slot games released by Konami in recent years, China Shores is readily available at most popular online casinos. For a full list of the online casinos that provide access to China Shores and many other Konami games, check out the table provided above.
If you are hoping to play China Shores on the go, you will be pleased to know that it is fully compatible for mobile devices. There is no need for an additional download. Simply navigate to your online casino of choice using your mobile device and China Shores will automatically scale to whatever device you are using.
A mobile version of China Shores can be accessed through your mobile casino of choice. While some of these casinos may provide access to a dedicated mobile app, you do not necessarily need to download one to access the China Shores game. China Shores can be accessed directly through your mobile browser. We didn't experience any slowdown or lag when playing the mobile version of China Shores, when compared to the desktop version.
As China Shores proved to be somewhat of a sleeper hit for Konami, it has since added a total of eight other games to the franchise, which is pretty good by any measure! The full list of China Shores slots includes both new and old classics such as China Shores: Boosted Great Stacks, China Shores: Quadspin, China Shores: Jackpot, China Shores: Double Winnings, China Shores: Boosted Wins & Spins, China Shores: Great Stacks, and China Shores: Boosted Riches.
At the time of writing, there is no dedicated China Shores mobile app, so unfortunately there isn't the option to download it. However, China Shores is perfectly adapted for mobile devices and can easily accessed on the go. To access it, simply head to your online casino of choice and search for the China Shores game in its catalog of games. The game will automatically resize to whatever mobile browser you have chosen to use. When played on mobile, China Shores is every bit as fast and responsive as the desktop version.