NEED TO KNOW
Fu Xiang Slot Details
Five jackpots

Wilds that pay

Two bonus games
Unknown volatility level
GAME VISUALS
Fu Xiang Slot Gallery
Fu Xiang Slot Review
Fu Xiang is a fresh sweepstakes slot game that made its first appearance at sweepstakes casinos around the world in 2022. The game embodies five instant jackpots, bonus rounds, and a key collecting feature. Simply put, it is one vibrant video slot that puts you in a virtual Chinese imperial palace with all the goodies inside. The highest prizes can be won in a "Pick-me" by way of selecting coins that match one of the jackpot prizes.
Fu Xiang Slot Theme
The expression "Fu Xiang" kind of rolls off your tongue even if you don't speak Mandarin. The meaning behind it is to have a happy and prosperous life. Feeling in a good mood today? You can take a walk down the street and wish Fu Xiang to random strangers. The person who's going to look it up will have a laugh.
Nevertheless, Fu Xiang slot is all about the comfortable, prosperous life of well-to-do officials at the royal court. It can be concluded from the paytable that the main symbol is that of the Emperor, which is joined, in terms of importance, by the Scatter bonsai tree and Wild coin symbol.
The reel set of the Fu Xiang sweepstakes casino slot looks like a pagoda and is in fact surrounded by pagodas that appear in a foggy dusk setting. There are lots of moving parts to keep your attention for a unique ride featuring golden keys, jackpot coins and big win symbols.
Fu Xiang Game Mechanics
It matters little if you are a new or seasoned player at sweepstakes casinos because this game is really easy to play. You need to select your play and press the spin button to set the reels rolling. When Fu Xiang slot awards you with winning symbols, they will appear from left to right on one of the paylines.
The so-called Multiline payout mechanic includes a Wild symbol that can stand in for any of the standard paying symbols. Each time a Wild appears on the reels, it will automatically go into one of the jackpot chests above, while leaving behind its substitute symbol capacity to impact potential winning outcomes.
Online casino players who pick this sweepstakes game for their next sitting will notice that even the major symbols can land stacked on a full reel. This is valid for the Emperor symbol too. This ability clicks very well with the Wilds because they too can land in stacks of two, which increases the odds in the player's favor.
Fu Xiang Gameplay And Symbols
The gameplay is outright fluid thanks to the smooth graphic design and the engaging payout mechanic. Moreover, Fu Xiang slot is one of those perfect games for a sweepstakes casino because the players can try a jackpot game with free coins.
It shouldn't take more than two dozen spins to figure out the fine details. One detail is that the Wilds are added to the money pots above the reels. Each Wild has a different color and that symbol is added to the corresponding treasure chest. The more Wilds land on the reels, the bigger the jackpots become.
As for the symbols, Fu Xiang slot pays smaller values for winning combinations consisting of royal cards. Bigger wins are paid for the koi fish, peach, lotus flower, lion statue, colorful eagle, and the Emperor. The ladder is the most valuable symbol and can be seen landing in stacks of two and three symbols on all reels.
If you are looking for a slot game that can offer a fun base game and bonus features, Fu Xiang is that game for sure.
Fu Xiang Bonus Features
Because the Wilds tend to land rather frequently, Fu Xiang slot precludes them from the first reel, however, this isn't such a great loss for the gameplay or the player. This is one of those rare video slots that is very liberal with the Wild symbol and you will feel that both in the base game and free spins bonus. Of course, the bonus that everybody is anticipating is the one where you can land one or more jackpots.
Jackpot Bonus
Basically, to trigger the jackpot game you need to collect enough Wild symbols. Since the Wilds were ubiquitous, our "Pick Me" game has been triggering relatively often.
In it, you need to flip the gold coins, of which there are 16. Three coins belong to the Minor jackpot, three belong to Major and six are dedicated to the Mini pot. As you can see, Fu Xiang slot makes it easier for the player to complete the bonus game with a prize.
Thankfully, the game doesn't have a "trapdoor" symbol that kicks you out of the bonus game before you're finished revealing the coins. So in addition to the 13 jackpot coins, there are three keys.
Super Chest Bonus
You can collect keys during the base game and complement your collection in the Jackpot bonus. If you collect 8 keys, Fu Xiang awards you with the Super Chest where the prize is significantly greater than the standard money pots.
Free Spins
Although in the world of online slots the free rounds are always exciting, they come as secondary in importance in the present game. This bonus game is triggered with three scatter symbols in exchange for 8 free spins. The kicker is that the Wilds become paying symbols and they continue to get thrown into the money pots.
Fu Xiang Slot Tricks
The game hand is all about the Wilds and hitting three matching gold coins in the jackpot game. For the latter, you need luck, but you can also try not to think logically. For example, if you've uncovered a Major jackpot coin in one place, there may be another one next to it, instead of looking for it in the opposite corner. But since every outcome in a slot game is random, the same is true for Fu Xiang, so you can simply take your random picks and hope to reveal three matching coins.
YOU MIGHT ALSO LIKE
Games Similar To Fu Xiang
Fu Xiang Sweepstakes Slot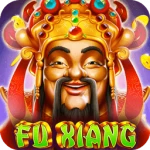 3.5
Published on 13 Sep, 2023
This is a video slot that can hold your attention with its smooth graphics and jackpot prizes. Yes, anyone can win one of the jackpots, even if you are betting small amounts. Also, the game can award lots of matching combinations in the base game, mostly consisting of low and medium-paying symbols.
Jonathan Hill

Review Author

Sign up Bonus
Sign in and get up to 4 million chips of house currency!
Low volatility slots can award winning combinations at a greater frequency compared to highly volatile slots, however, these games tend to award smaller prizes.
Yes, casino players can play the game for free by registering at a sweepstakes casino. Please note that some casinos require you to earn points in order to unlock Fu Xiang.
Fu Xiang is an amazing slots adventure that you can play online at sweepstakes casinos. You can play the game with free coins or you can visit the "Coin Store" to purchase more when your free set has run out.
There is no need to download this game because you can play it directly at the sweepstakes casino online. Fu Xiang loads on your mobile or computer screen without requiring any apps or plugins.