PROS & CONS
Lucky Larry's LobsterMania Advantages And Disadvantages
Impressive maximum win

Cheerful graphics with bold colors

Every symbol fits in with crustaceous theme

Engaging sound design complements the game's aesthetic without overwhelming the gambler
The maximum stake can be pricey

Quirky theme may not suit all players
GAME VISUALS
Lucky Larry's LobsterMania Slot Gallery
ALL ABOUT THE GAME
Lucky Larry's LobsterMania Review
Initially launched in 2011, Lucky Larry's Lobstermania is an industry classic slot from International Game Technology (IGT). The slot might not seem the most entertaining on paper, but it is a surprisingly engaging game in practice. (I suppose that's why they call it 'lobster mania'.) Players begin by selecting their stake and then spinning the reels, each of which is set against a distinctly nautical background including a lighthouse, crashing waves, and bright blue skies dotted with fluffy clouds. The wins can be almost alarmingly high, too, with a bit of luck.
This review will explore Lobstermania and everything the slot has to offer today's players.
Lobstermania Features
Lucky Larry's Lobstermania is an exciting online game featuring a whole host of impressive bonus features designed to keep players entertained spin after spin. With a fun fishing theme that places players in the middle of a beach on a balmy day under the sun, the five-reel slot offers users an impressive 10,000x maximum prize jackpot win and 40 paylines to help fuel wins in the base game.
People can't get enough of Larry and his lobster tales – the game is a popular IGT slot around the world, but especially among players in the UK and Australia. The game features an impressive return-to-player (RTP) of 96.52%. Players should note that this is a lifetime RTP.
IGT, who are the software producers behind Lucky Larry, has been around since 1975. IGT is a leader in the casino game industry and has released a number of popular online slot titles. The provider is particularly well-known for its long-running Wheel of Fortune series of slots, for example, and is one of the few officially licensed providers of the title. Lobstermania is another testament to the developer's ingenuity and dedication to creating quality games with the most catchy themes and valuable bonus features.
Lobstermania Gameplay And Symbols
Lobstermania is a truly attractive slot with an impressive combination of gameplay mechanics and graphical polish to keep players entertained. We will start with the latter and briefly discuss the game's symbols, as they are a definite highlight when players send the reels spinning round after round.
IGT's slot focuses on somewhat predictable nautical themes. The symbols include clams, buoys, starfish, tuna and seagulls along with a few different special bonus symbols such as wilds and scatters. Each of these are well-designed to be attractive without pulling too much attention away from the game's gameplay, with eye-catching but not overly bold graphical elements.
In addition to the game's aesthetics, Lobstermania boasts fun gameplay. Players have access to a few different features such as multipliers. Landing four lobster buoys, for example, can award players with a multiplier of up to 4,000x! If that sounds good, you will love the ability to boost overall win multipliers for even more incredible gains. Triggering the buoy bonus on two different paylines, for example, will double all other multipliers, including the 4,000x mentioned above.
Lobstermania Slot Bonuses
Slot machines are one of the most popular types of casino games precisely because they offer so many different bonus features, which can drive up win amounts. A free spins round, for example, is a bonus feature that awards players with a set of free spins in exchange for meeting a certain condition. Landing three or more scatter symbols on the reels at any given time, for example, is a common free spins round activator. Once the round has been triggered, the free spins will be automatically awarded to the player's account and will start playing immediately.
Other popular bonus features include bonus rounds and bonus games, both of which add a bit more excitement to slots as they stand to boost player payouts quite a bit.
Lobstermania does not boast the most invaluable bonuses around. However, it features more than enough to keep most players interested. It does not appear to offer a free spins round, although it does offer wild symbols and impressive multipliers that can seriously impact the amount of wins players land on their turns.
How To Play Lobstermania Slot Free Online
It is possible to play Lobstermania slot free online. The game can be played just for fun by visiting an online operator offering a demo version of the slot. This allows players to enjoy the game without spending any of their own coins or risking their real money in the process, and the best part is that the gameplay itself does not change. Once you understand how to play Lobstermania, you will be able to play it the exact same way whether it is the free version or you are opting for paid spins.
It is important to note that when you play a game for free, you are not playing for cash. Instead, you set your stake from a pot of virtual funds tied to the slot machine session. The funds reset when the window is refreshed, and it is not possible to transfer any of that money to bank accounts or other financial accounts. Remember that when you play the game for free, you are playing it for fun only, not for monetary gain, so you're not placing a real bet and you can't win any jackpots from it.
Why Play Lobstermania Slot Free?
There are a few reasons why playing Lobstermania for free is a good choice. First, playing the game for fun rather than for money gives people the ability to spend as much in-game funds as they'd like per spin, with higher numbers making it easier to trigger some of the game's more valuable bonus features. This can help players better understand the way the game works before spending their own money-making big spins.
Playing Lobstermania for free is also just a great way to spend some quality downtime! The title is an entertaining one and becomes even more entertaining when players are able to enjoy the title without worrying over funds. Take some time to play the game without worrying about how much you are spending and you might just find the spins to be a bit more relaxing than they usually are.
Tips For Playing Lobstermania
Playing Lobstermania is a fairly simple task. First, players will pick an amount of money to spend per spin. Next, they start spinning the reels. That's it! Just keep the reels moving and you will have the opportunity to trigger bonus features and make your money back.
YOU MIGHT ALSO LIKE
Games Similar To Lucky Larry's LobsterMania
Lucky Larry's LobsterMania Sweepstakes Slot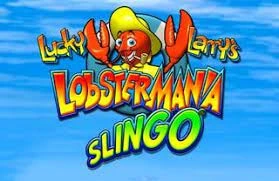 4.5
Published on 13 Sep, 2023
Overall, Lobstermania is a good choice for players interested in simple gameplay without dramatic themes and expensive bonus features. It is not the most lucrative slot on the market, but there is plenty of reason to open it up regardless.
Jonathan Hill

Review Author

Sign up Bonus
Sign up and get 7,777 FREE Gold Coins + 10 Sweeps Coins
Yes, you can play Lobstermania online. This is one of the best ways to play the game, in fact, with online casinos offering players easy access to the game from the comfort of their own home. Anywhere players can access the internet, they can play Lobstermania online, making this an especially good choice for users interested in gaming while they travel.
It is possible to play the game in some land-based casinos as well if you prefer to visit brick-and-mortar establishments for your gaming. The controls, rules and how you place bets should remain consistent from the online game to the physical slot machine version, so players can also switch between gameplay methods at will. Once you understand how the game works, you're all set to play it anywhere the title is available!
There are a variety of online casinos offering Lobstermania. To find the best choice for your needs, take a look at our suggestions in the article above. Our goal is always to help our users find the online operator with the right games and regulations that suit their preferences.
If you are unable to find a suitable casino in our review, do not worry – it is possible to do a bit of your own research to find another option. Simply search for online casinos carrying the title, but don't forget that Lobstermania is only the first in a series of slots of the same name!
Lobster mania is truly alive and well. While the original is the best known and most widely played, there are at least five separate Lobstermania games out there – Lucky Larry's Lobstermania 1, Lucky Larry's Lobstermania 2, Lucky Larry's Lobstermania Deluxe Lucky Larry's Lobstermania 3 and Lucky Larry's Lobstermania 4. The gameplay is largely similar in all slots, with just a few details changing from game to game. And considering the outrageous popularity of the slot, we wouldn't be surprised if there were even more lobster games in the works.
You can play Lucky Larry's Lobstermania 2 online for free anywhere you can play the first entry in the series for free. Look for casinos offering demo play, too, and make sure to read through the casinos we list above in our Lobstermania review – these operators can help guide you in the right direction.
Yes, you can play Lobstermania on mobile. The best way to do this is to sign up with a trustworthy mobile casino offering the game. Quality providers will create a seamless mobile gaming experience, be it via an app or even simply just via a mobile-optimized casino homepage.
You can purchase Lobstermania online. However, downloading the game for free might be a problem. Make sure to only download content you are paying to use, be it through a casino or via buying the game outright. Once you have purchased the slot, it is possible to download the title to the device of your choice.
While Lobstermania has a mobile application, you can also play the game directly from most mobile devices via your web browser.