Skillz Casino Details
Website
https://games.skillz.com/
Support Types
24/7 Live Chat
Payment Methods
Visa, MasterCard, Debit Cards, Paypal, Apple Pay
Skillz puts a unique spin on online gaming by providing a mobile platform where players can connect and engage in a fair and fun competition. The company mainly develops and supports proprietary online-hosted technologies, which enable game developers to host tournaments and provide gaming competitions for their international audiences.
Additionally, Skillz offers esports tournaments for a wide selection of mobile players. It distributes the games through its app, which users can download directly from the Skillz website or through third-party platforms.
Wide variety of games in different genres

Free tournaments are available

Cash prizes can be won from video games

New games and challenges are frequently added
Does not offer Skillz slots

Real money is only available on mobile phones platforms
How To Sign Up For A Skillz Account
Signing up for a Skillz account is fairly easy. Interested users can access the Skillz website and find a step-by-step guide on registering an account.
The platform automatically assigns a random user name when players access a Skillz game for the first time. Users can update these assigned usernames, profile pictures, and contact information by tapping the player icon on the top right of the main menu screen.
This action will take users to a screen containing all legal information and terms and conditions. They will also see options to change their avatars and account information. Should players get stuck, they can access the Skills' FAQ and Help section at the bottom of this screen.
Under the 'Account' tab, players will find sections where they can change and update the following:
Personal information
Account balance
Redeem requests
Avatar
How To Download The Skillz App
The Skillz platform is specifically designed for mobile play, which means you can only access the games and tournaments on a mobile phone. The app works on iOS and Android devices and can be downloaded via two methods.
Firstly, prospective players can access the games.skillz.com website. Here, they can scan a QR (quick response) code that will link them directly to the download options for the app. This code can be obtained by:
Opening the phone's camera function.
Scan the QR code on the right of the screen.
As soon as the option appears, tap to open the browser and then tap the 'Get' button.
Follow the on-screen prompts and step-by-step download instructions.
Secondly, players with Android devices can also access Skillz games directly from the Play store or the website. When accessing the app for the first time on Android phones, players must:
Choose a game by going to games.skillz.com and tapping the 'Get' button on the preferred game.
Permit the direct download to commence. Players may see a message such as 'Allow Direct Download.' To initiate this, they must tap the 'OK' button.
Players may also be notified that the file type is unsafe and may harm their devices. This should be ignored. Skillz has a strict privacy policy and will not divulge a player's details or financial information.
After going through this red tape, the download will commence, and the download status will be indicated.
When the download is completed, players must tap on the progress bar and then the 'Install' tab.
Once everything is downloaded and installed, players will receive the green light to either access the specific game or look for the Skillz app icon.
Skillz No-Purchase Bonus
Players must remember that Skillz is not an online or sweepstakes casino and does not offer sign-up or no-purchase bonuses. This platform does, however, offer Bonus Cash for participation. Furthermore, it hosts tournaments and runs special offers from time to time.
Players can use Bonus Cash to enter tournaments and play against other matched players for real cash prizes. However, players cannot redeem Bonus Cash and will forfeit it whenever removing money from accounts.
When players enter tournaments, they typically pay the entry fees with 90% cash and 10% Bonus Cash. Theoretically, a 10% bonus is awarded for every tournament entry.
If players do not have enough cash to cover a tournament entry, the remainder will be made up with Bonus Cash – if it is available in the player's account. When players win a tournament, their entry fees are refunded the same way they entered the contest. Effectively, this is a split between the real cash and Bonus Cash. Winnings, separate from the entry fees, are 100% real cash.
Other Bonuses At Skillz
Players can get their hands on Bonus Cash by referring their friends to Skillz. They need to open the Skillz app and the slide-out menu on the screen's right-hand side. All that remains to do then is tap on the 'Free Bonus Cash' and 'Share' buttons.
This will give users a unique invite link they can send via email, text, or other messaging formats to their selected friends. Bonus Cash through friend referrals only works when friends accept the invitation and make the first down payment to your account. Once this happens, the player and referred friend will receive a $20 Bonus Cash each.
The platform also offers Ticketz for Bonus Cash. Players can access this option by tapping on the red 'Ticketz' button near the home screen's top left. The player's Bonus Cash balance will appear here. Players can then select to redeem the total balance or part of it.
Players can also get Bonus Cash by winning trophies. To look at trophy progress, they can open the slide-out menu on the Skillz home screen and tap on 'Claim Prize' to receive awards attached to completed trophies.
Skillz Bonus Codes
Skillz bonus codes are usually time-sensitive, and players must keep an eye on available bonus offers. Often, promotions will coincide with specific holidays and carry unique bonus codes. Skillz often advertises promotional offers through in-app promotions or emails.
Players must make sure they subscribe to Skillz emails to receive these notifications via email. They can access this consent in their section by checking the box 'I consent to be contacted about Skillz offers and products.'
Players can also tap the 'Store' option to see if there are any running promotions and associated bonus codes. Limited offers will have a countdown timer next to them.
All bonus offers and promotions are open to all players. Users should regularly check for these in their emails or app tabs and follow Skillz on their preferred social networking platforms.
Skillz Sweepstakes Games
Skillz offers a variety of skill-based games where players of matching or equal skill levels compete against each other. This platform uses an algorithm to match players of similar abilities to ensure that competitions are fun and fair.
This gaming platform has something for everyone and covers all the bases for catering to an international audience. It hosts games in the following genres:
Action
Arcade
Bingo
Board
Bubble
Card
Chess
Dominoes
Mahjong
Physics
Pool
Puzzle
Solitaire
Spades
Sports
Strategy
Sudoku
Tetris
Trivia
Word
Esports tournaments are one of the specialties of Skillz and feature popular sporting events such as NFL tournaments. When this platform launched in 2012, it started with only 10 esports games. Today, it hosts more than 22 different software developers and offers thousands of games. Players can engage in both esports and fantasy tournaments. The Skillz gaming collection is continuously growing, and players can opt to play against equally-skilled competitors, friends, or alone.
However, there are no Skillz slots available, but players can indulge in various casino-based table games. These include baccarat, roulette, video poker, and dice games. There are also exciting variations, such as Blazing Blackjack and Pai Grow.
Play The Following Games At Skillz
Purchase Options At Skillz
All the games incorporate payment options. Players can access these directly to make quick, easy, and secure down payments. The player has to select the amount and pay with one of the accepted options. Available packages include $2, $5, $10, $15, and $30 purchases.
How To Buy Gold Coins At Skillz
Skillz does not offer gold coin packages. Instead, players purchase selected packages, and balances are added to their accounts.
How To Get Free Gold Coins At Skillz
There are no free gold coin offers at Skillz. Although this platform is similar to an online sweepstakes casino in some ways, it does not offer gold coins to play with.
Players enter tournaments and competitions with real money purchases. Users can use Bonus Cash to pay part of their entry fees.
How To Redeem Wins At Skillz
Players can redeem their winnings or positive balances at any time by accessing the relevant section located on the main menu. Amounts totaling the player's gameplay account total can be redeemed through the same method used at the time of payment. Winnings exceeding that total amount are redeemed via a paper check in the United States or through PayPal for other international players.
Each redemption request is handled manually for safety and security reasons. Players may have to verify their personal and banking details as part of this process. This can take four to six weeks, but processing occurs much quicker in most instances.
Banking Options At Skillz
Skillz accepts recognized credit cards, PayPal, and Apple Pay. Methods can be changed or updated by accessing the 'Store' icon on the app's home screen.
Customer Support At Skillz
Skillz offers customer support through FAQs, live chat, email ([email protected]), and a Zendesk contact form submission. The FAQs section is quite helpful and provides solutions to most problems. Should a player contact Skillz via the form on their website, they will get in touch.
Summary: Why you should sign up to Skillz Casino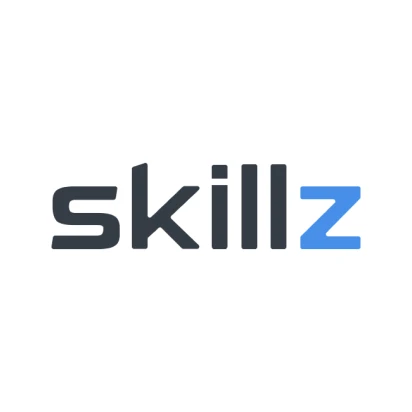 3.8
Published on 13 Sep, 2023
Skillz fills a gap in the market and offers an alternative gaming experience where players still stand a chance to win cash prizes. This company has been around for over ten years and has proved its mettle in a competitive market.
Jonathan Hill

Review Author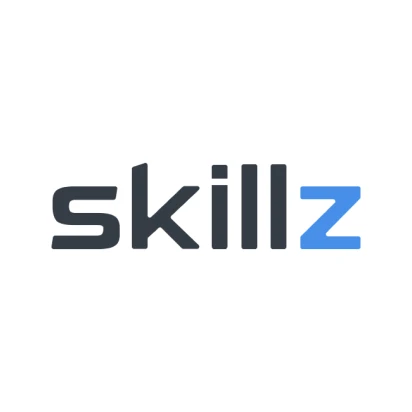 Play casino games for FREE!
Play Now
Yes. You enter and compete in competitions and tournaments for Skillz games for real money.
No. Skillz is a social gaming platform where matched players compete in games against each other.
Andrew Paradise is the CEO and founder of Skillz, Inc.
Yes, Skillz is a legal social gaming platform. All cash-enabled games and competitions underwent patented tests to ensure fairness.
Skillz is internationally legal in approximately 75% of the globe and 41 US states, except Arizona, Arkansas, Connecticut, Delaware, Louisana, Montana, South Carolina, South Dakota, and Tennessee.
Yes. Tournaments have entry fees.
It takes between four and six weeks to process payouts, often much quicker.
No. Players can only have one account, which they use for multiple games.
No. You need to download the app and the offered games. You can play Skillz games on iOS and Android as the app suits both operating systems.
Unlock Casino Offers!
By subscribing you confirm your are over 21 years old and agree to receive casino offers via email. You can unsubscribe at any given time. Please read the Privacy and Cookie Policies for more details.