NEED TO KNOW
Wolf Run Slot Details
Game Studio
IGT (Wagerworks)
Unique wolf-themed aesthetic

Autoplay feature

Five-reel slot with 40 paylines
Graphics are somewhat old-fashioned

Fewer special features than you find on more recent slot machines
GAME VISUALS
Wolf Run Slot Gallery
ALL ABOUT THE GAME
Wolf Run Slot Review
In the fast-moving world of online casinos, where you can often see hundreds of new and exciting slots released each year, it is a relatively rare occurrence for a slot to have any real staying power. With that said, when a particular slot does prove to be popular for any extended length of time – whether that is for a few weeks, months, or years – there is usually a good reason for it.
This is certainly the case with Wolf Run, which has consistently proved to be a fan favorite since it was released over a decade ago, despite all the competition it has come up against over the years. If you have spent any amount of time at an online casino since it was released, you will more than likely have come across the famous Wolf Run slot.
What is it about Wolf Run that has helped it to remain so popular throughout the years? Is it the deliciously retro graphics? Or is it the tinkling sounds as you spin the reels? Or, more likely, does the massive payout potential that this cult classic slot game holds in its spinning reels make gamblers go wild? We're taking a deep dive into the epic slot Wolf Run. For a full rundown of what Wolf Run is, what features it has, and what has made it a hit with fans, keep reading this Wolf Run slot game overview!
Wolf Run Slot Machine Features
Wolf Run is a fairly typical five-reel slot that provides you with 40 paylines. As such, the playing experience will feel familiar if you have ever played a five-reel slot before.
However, Wolf Run has a lot of different features that help to give it a unique feel. While the graphics might look a little dated, and the symbol design is not exactly cutting edge, winning combinations and bonus rounds seem to hit quite regularly, which helps the gameplay feel fresh – especially when you're scooping up a nice big payout.
Wolf Run is packed full of unique wilds, scatters and free spins that seem to trigger at a decent rate – which certainly helps your chances when it comes to payouts!
As with all IGT games, we were also glad to see the autoplay function included, which makes those longer playing sessions go that little bit more smoothly. You can set the autoplay to run for between 10 and 50 spins, which can free you up in those longer playing sessions. Any wins you make during the autoplay run will automatically get added to your balance. Auto spins can be stopped at any point during the run, so the player always has the option to take back control!
As the game centers on wolves, a wolf theme is integrated into every aspect of the game. Although some might find the graphics themselves to be little dated, we loved the slightly retro-looking aesthetic. Wolf Run has a mystical, Native American-style theme, which means that the graphics and symbols feature wolves, dream catchers and bright full moons.
Wolf Run Slot Machine Gameplay And Symbols
In terms of the gameplay, as a five-reel slot with 40 different pay lines, the playing experience is very much what you would expect.
The main features to mention are the wilds and free spins bonus rounds. When the wilds are aligned, they trigger winning lines, which gives you the potential to earn an additional bonus. The bonus round will trigger five free spins, with free spins able to be triggered multiple times if you are lucky enough!
Wolf Run Slot Machine Strategy
In terms of how to play the game itself, as we mentioned earlier, there are a total of 40 paylines. To maximize your bonus, all 40 of these might need to be played. However, you should always adjust the paylines in line with your budget.
Players can place from one to 50 on each pay line, with a maximum of 2,000 coins playable across each spin of the slot.
Howling Wolf symbols pack the biggest punch, so they are always a welcome sight whenever they show up! Additionally, line wins will always pay from left to right and get multiplied by the amount you place on each line, so be sure to pay attention to the action on the screen! This is particularly important if you are using the autoplay feature.
Another important strategy to keep in mind is that as a 40-payline slot, you might experience a bit of downtime between bonuses. As such, it is important to not over-rely on the autoplay feature to speed things up. If you are using autoplay, set it to run for fewer rounds and keep an eye on the gameplay.
Additionally, we would also recommend that you play Wolf Run slot machine free before committing any funds. Thankfully, Wolf Run comes with a full-featured demo version that lets you try it out first. It is important to spend some time familiarizing yourself with the basic game mechanics before putting a real money bet on the line.
Wolf Run Slot Bonuses
If you manage to land bonus symbols on the middle reels, this will net you five free spins. Any wins you make during this round will activate a 2x multiplier.
Additionally, you can also re-trigger even more free spins if you land three bonus symbols on the center reels. These stack onto your existing bonus spins, which means that you can keep the bonus going for even longer! These additional free spins also come with a 2x multiplier. There is also a boosted stacked wilds feature that can appear on any of the five reels.
Tips For Playing Wolf Run Slot
As a standard five-reel slot with 40 pay lines, you are somewhat limited in terms of what tips and strategies you might find useful. However, the basics will always serve you well when playing. This means using the autoplay feature sparingly and always practicing good bankroll management. Once you hit your budget for the day, call it quits and log off! After all, there is no point chasing another multiplier if your bankroll is starting to run dry.
It is also important to keep a careful eye on the autoplay feature if you decide to switch it on. Although we are big fans of it, particularly in longer playing sessions, it might not always make the best playing decision for you. As such, we would recommend setting it to run only for a limited number of rounds and to carefully watch the action on screen even when it is running automatically.
YOU MIGHT ALSO LIKE
Games Similar To Wolf Run Slot
Wolf Run Sweepstakes Slot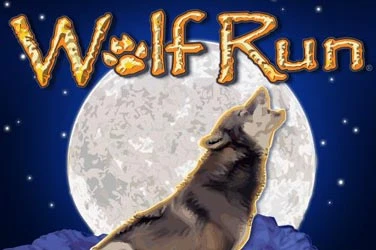 4.175
Published on 13 Sep, 2023
With all that said, how does Wolf Run slot stack up against the competition? And, in particular, how does it compare to the many new games and wolf slots that have been released since Wolf Run was first launched?
Overall, we were pleasantly surprised by how much fun we had playing Wolf Run.
Although the game mechanics are definitely on the simpler side and the graphics are certainly showing their age, the experience of playing Wolf Run is like greeting an old friend you haven't seen for a while. After only a few rounds of playing, we were back up to speed!
If you are looking for an online slot that has truly stood the test of time, we would definitely recommend checking out a demo version with casino credits and trying it out before committing any funds to the platform.
Jonathan Hill

Review Author
As one of the leading providers of online casino games, Wolf Run slot is ready to play in an instant at many of your favorite online casinos. To access it, simply log into your online casino account, type in 'wolf run' in the search box and it should come up. Since it has spawned quite a few imitators in the area since it was released, don't be surprised if more copycat wolf run slots come up.
As one of the most popular slot games, Wolf Run is available at a wide range of online casinos. To find out which casinos provide access, use a comparison review website like this! For a full list of casinos providing access to Wolf Run, read the above review.
Wolf Run slot gives you the option to try out the game without the need to make any purchases. However, make sure that this option is selected before you enter a game!
If you are hoping to access your favorite online casino games such as Wolf Run slot on the go, you will be pleased to know that Wolf Run comes perfectly optimized for a mobile gaming experience. The user interface is nice and simple, which makes it easy to play when you have less screen real estate to work with.
Although standalone mobile apps have become increasingly popular with online casinos, there is often no need to download a dedicated app. Instead, simply head over to the mobile version of your favorite online casino website and it will automatically scale to whatever mobile device you are using. This is a great way to access your favorite online casino games such as Wolf Run on the go, without the need to download an app. Wolf Run plays equally as well on a standalone app as it does on a mobile browser-based online casino.
Building on the success of the Wolf Run slot machine game, the developers at IGT added another game to the franchise. This came in 2012, with Wolf Run Mega Jackpots as a follow-up. In terms of the design and aesthetics, it features much of what made the original Wolf Run so great, though it adds in some extra opportunities to win big bonuses and payouts. Although not quite as successful as the original Wolf Run slot, Wolf Run Mega Jackpots is still well loved by fans and has helped to cement the success of the franchise. There are numerous games in the Wolf Run series, and it has proved to be one of IGT's most well-loved franchises.
Currently, there is no dedicated Wolf Run app. This is because Wolf Run is a slot game that online casinos will host on their platform and provide access to. However, depending on what online casino you use, you may be able to download a mobile app that gives you access to it. These days, many online casinos have mobile apps that allow you to take your favorite casino games on the go!