NEED TO KNOW
Mega Moolah Slot Details
Renowned for jackpot wins

Players can also spin the reels for as little as $0.25 per spin

Four progressive jackpots

Apart from the mega jackpot, players can enjoy smaller, more frequent jackpots.
High volatility

Low RTP
GAME VISUALS
Mega Moolah Slot Gallery
ALL ABOUT THE GAME
Mega Moolah Slot Review
MegaMoolah is a progressive jackpot slot designed and developed by Microgaming, a gaming software developer founded in 1994. This company developed the world's first authentic online casino in 1994. A decade later, it launched the first mobile casino software. Since these breakthroughs, Microgaming has consistently delivered exciting new titles for players to place bets on. The company is also a founding member of e-Commerce Online Gaming Regulation and Assurance (eCOGRA), which underpins the company's commitment to fair and responsible gaming.
Mega Moolah seems like a straightforward slot machine with its five reels and 25 pay lines. In this instance, looks are deceiving, as this slot has some thrilling special features and delivers some of the biggest prize jackpots in land-based and online casino lobbies.
This slot holds the Guinness Record for the highest online jackpot amount ever won. British soldier Jon Heywood made the news in 2015 when he won more than $13m playing Mega Moolah on the Betway site, after placing a bet of just 25p. It is estimated that this slot has paid out more than $6bn in jackpots since its release. As a jackpot slot, it is somewhat difficult to find a free demo version, but there are ample online videos showcasing its gameplay.
The Mega Moolah slot machine has stood the test of time and remains a hot favorite among avid slot fans. This review looks at the ins and outs of this game, its different jackpots, the different ways you can win, and at which online casino players can play Mega Moolah for free.
Mega Moolah Slot Machine Features
Mega Moolah is an African-themed slot machine that immediately transfers players to the Serengeti for a captivating and entertaining adventure. The traditional African tribal music sets the ambiance and the chosen sound effects go well with the theme of the game.
Microgaming has updated the game a couple of times since its launch to keep the graphics sharp and contemporary. As mentioned, the game is pretty straightforward with its five reels and 25 pay lines and does not overwhelm players with unnecessary information.
A jungle tree forms a background for the five reels. The game symbols are cartoon-like portrayals of African animals, with a full-maned lion taking the crown as the wild substitute for all the other symbols, except the monkey, which is the scatter symbol.
This is a high volatility slot with a return to player (RTP) percentage of just over 88%. This means that wins do not occur frequently and that the slot pays back roughly 88% of played funds. The RTP is lower than most online slots due to it being a progressive jackpot game.
The wild pays x0.6, x5, x60 or x600 a player's stake when landing two, three, four or five lion symbols. This wild also doubles all winning combinations.
The monkey scatter symbol takes players to the bonus feature and also puts some moolah in their pockets. Players will get:
2x the reward with two scatters or 50 coins
3x the reward with three scatters or 75 coins
Four scatters delivers 20x the reward or 500 coins
Five scatters delivers 100x the reward or 2,500 coins
However, that is not all the monkey scatter does. It also teleports players to the free spins bonus round, where they have a chance to win even bigger prizes. Users need three or more scatters to access this bonus round. These do not have to be in order and can appear randomly on the reels.
When this happens, players start with 15 free spins and all winnings are multiplied by three. This means they can get up to 225,000 coins during the free spins bonus round. The free spins can also be retriggered by landing three or more scatters.
This game offers players even more Mega Moolah rewards and huge payouts when they access the jackpot wheel. Here, users can land on one of four jackpots: mini, minor, major and mega jackpots. This feature cannot be triggered during the standard game.
When players trigger the jackpot feature, an off-screen game will pop up. This is a random feature that simply appears unexpectedly during standard gameplay. Playing higher stakes improves the chances of triggering the jackpot screen.
It is a large wheel with colorful wedges and one pointer. Most of the wedges are red and represent the Mini Jackpot. The orange wedges represent the Minor Jackpot, the yellow segments the Major Jackpot, and the one white segment is for the Mega Jackpot.
Players spin the wheel to win one of these jackpots. Winning the smaller jackpots – those ranging from mini to major – takes players back to the base game. However, when a player is lucky enough to land the Mega Jackpot, they can expect to be contacted by the relevant online casino. This jackpot is awarded as a lump sum.
Mega Moolah Slot Machine Gameplay And Symbols
The gameplay on the Mega Moolah slot machine is simple. Players need to land matching symbols from left to right on the reels on any of the 25 paylines. At least three monkey scatters trigger a free spin bonus, while the lion, being the king of the jungle, is wild and rewards players with the lion's share.
Landing the jackpot wheel is a chance of luck. Players interested in chasing one of the progressive jackpots should make sure they cover all pay lines and increase the number of coins they play. The higher the stake, the better the chance of accessing the jackpot wheel.
There are low-paying and high-paying symbols. The latter range consists of quirky animal symbols ranging from antelopes to zebras, buffalo, giraffes and elephants.
The lower value symbols are 10s, jacks, queens, kings, and aces. These payouts are as follows:
Three 10s pay out two coins, jacks three coins, queens four coins, kings six coins, and aces eight coins
Four 10s pay out 10 coins, jacks 15 coins, queens 20 coins, kings 30 coins, and aces 40 coins
Five 10s pay out 40 coins, jacks 60 coins, queens 75 coins, kings 100 coins, and aces 150 coins
The five higher-paying symbols are the kudu, zebra, giraffe, buffalo, and elephant symbols. Players only need to get two buffalos, which award four coins, or elephants, which award six coins, for a payday. The other higher-symbol payouts are:
Three kudu symbols award 10 coins, zebra symbols 20 coins, giraffe symbols 30 coins, buffalo symbols 40 coins, and elephant symbols 50 coins
Four kudu symbols award 50 coins, zebra symbols 100 coins, giraffe symbols 125 coins, buffalo symbols 150 coins, and elephant symbols 250 coins
Five kudu symbols award 250 coins, zebra symbols 400 coins, giraffe symbols 500 coins, buffalo symbols 600 coins, and elephant symbols 750 coins
Players should note that 25 coins are required for one spin. It is inevitable that lower stakes pay less. As this is a progressive jackpot slot, maximum stakes are beneficial in the long run.
As previously mentioned, the lion is wild and substitutes for all other symbols except for the monkey scatter. Apart from doubling rewards when part of a winning combination, three lion symbols pay out 100 coins. Landing five lion symbols pays out 15,000 coins, which is also the biggest reward a player can achieve in the base game.
Mega Moolah Slot Machine Strategy
Prior to playing this slot machine, players should understand that it has high volatility and comparatively low RTP. This means that rewards can be infrequent and on the smaller side. Managing one's bankroll is always wise and alternating between smaller and higher stakes may pay off. Keep in mind that the player can, however, miss a big payout when playing with lower stakes.
For the best odds of accessing the jackpot wheel, players should place the highest possible stakes and make sure they cover all the paylines. The rest is just up to the wiles of Lady Luck, as is the case with all slot machines.
Mega Moolah Slot Bonuses
As mentioned, players can access two bonuses when playing Mega Moolah.
The monkey scatter triggers a free spins bonus. Three or more monkeys award 15 free spins, which can be retriggered during this bonus round by landing another three or more monkeys again. The rewards are also multiplied during this round, which makes it worth a player's while.
The jackpot wheel is an elusive bonus, but very rewarding when triggered. Players do not have to do anything except play the base game for a chance to be transported to the off-screen jackpot feature. Here, they simply spin a wheel and a pointer will indicate if they won either the mini, minor, major or mega jackpot.
Tips For Playing Mega Moolah
Playing a progressive jackpot slot is challenging and players often get impatient or frustrated because rewards occur far and few between. When sitting down to play Mega Moolah, players should:
Prepare themselves to be patient as rewards will not be immediate, but when they do come they will be worth it
Managing one's bankroll and alternating between high and lower stakes can extend gameplay and make a session more enjoyable
Players should cover all paylines to make sure they do not miss out on bonus features, such as the jackpot wheel
YOU MIGHT ALSO LIKE
Games Similar To Mega Moolah Slot
Mega Moolah Sweepstakes Slot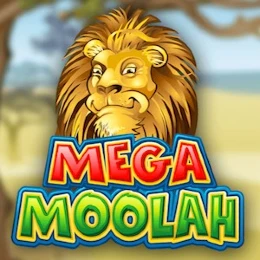 4.5
Published on 13 Sep, 2023
The Mega Moolah slot machine has graced online and brick-and-mortar casino floors for more than 15 years. This attests to this game's popularity. It offers players a chance to get their hands on a life-changing multi-million dollar jackpot simply by logging into their account and placing a bet. That alone should be enough to take a virtual seat and spin the Mega Moolah reels.
It is always wise to try out the demo version of a slots game before delving in. This gives players a chance to get to know the ins and outs of a game and also allows them to find out if they like it or not. Prospective players should check out some of the online videos detailing the gameplay and bonus features.
Jonathan Hill

Review Author
Sign up Bonus
Get $5 FREE Coins, code 1st 5K & $10 FREE Coins with code TV
You select your stake and click or tap spin. Winning combinations appear from left to right.
Apart from the original version of Mega Moolah, players can also play Mega Moolah 5 Reel Drive, Mega Moolah Isis, Mega Moolah Summertime, Mega Moolah Atlantean Treasures and Mega Moolah Absolootely Mad.
Yes. Since the game is available to players in various markets, there have been several Mega Moolah jackpot winners from countries all over the world, including a British soldier who won more than $13m in 2015.
At the time of writing, there are 13 different Mega Moolah slot variations. All of them are designed and developed by Microgaming. Most online casinos offer the original version of this game.
Yes. The Mega Moolah slot has four progressive jackpots, including a mini, minor, major and mega jackpot.
Apart from awarding progressive jackpots, these slots are developed by Microgaming, one of the best iGaming companies in the industry.