Top Sweepstake Casinos That Accept UnionPay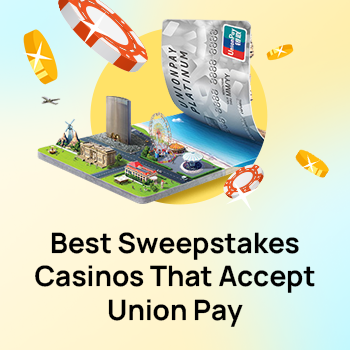 Finding A Union Pay Sweepstakes Casino
While Union Pay is the official banking network in China, this payment system has grown beyond the shores of the Asian continent. Unfortunately, Union Pay isn't common at online casino sweepstakes in the US, but that's not to say there are no Union Pay sweepstakes casinos.
Perhaps you've experienced the benefits of Union Pay via a retail site and are looking for social casinos that accept it. At any sweepstakes casinos that allow Union Pay, you should see the provider's logo among the available options for purchasing Gold Coins.
The terms and conditions page of an online casino will often contain relevant information, so you can read through the fine print to find any mention of Union Pay. The payment sub-section of the T&Cs should have details regarding acceptable payment options.
Benefits Of Union Pay vs. Other Purchase Methods
There's still a significant level of skepticism surrounding online gambling payment methods. Many believe casino transactions expose personal information and banking details to risk. While this is a real threat for most purchase methods, Union Pay constantly races to stay ahead of security technology and eliminate any vulnerabilities.
This provider uses a 3D secure payment authentication system to ensure information and transaction security. Although sweepstakes casinos do not offer real-money gambling, such security features ensure safe purchases and redemptions for players. In addition, Union Pay is a mobile-focused solution. It facilitates the convenience of mobile gaming with several features, including:
Union Pay mobile app
QR code payment
Union Pay mobile QuickPass
Variety of Union Pay cards, including premium and prepaid cards
Another attribute that's easily noticeable with Union Pay is the speed of transactions. Deposits are instant and fee-free.
Uses effective encryption techniques

Allows instant deposits

Purchases are free of charge
Not available at many sweepstakes casinos

Does not support direct withdrawal
Best Union Sweepstakes Bonuses
Sweepstakes casinos come with all sorts of bonuses to attract new players and retain existing ones. The first of these incentives are often the welcome bonuses, where players receive free Gold Coins and Sweeps Coins after registration. This offer allows gamers to enjoy a range of casino games without a deposit. Also available for new players at sweepstakes casinos is the first-time purchase bonus. This rewards players with more value for their purchase provided it is above the stipulated minimum amount.
It's not unusual to find bonuses tied to specific payment methods. At Union Pay sweepstakes sites, you may come across exclusive Union Pay offers that can only be activated with a purchase from this provider. Sweepstakes are also known for social media contests and challenges – something you don't find at regular online casinos. You can win Gold Coin or Sweeps Coin prizes from these contests. Even if you don't win, you can still earn bonuses just for your participation. Sweepstakes casinos regularly dole out free coins to players through a daily login bonus, social media perks or when requested via postal mail.
Note that some of these bonuses might require using bonus codes for activation.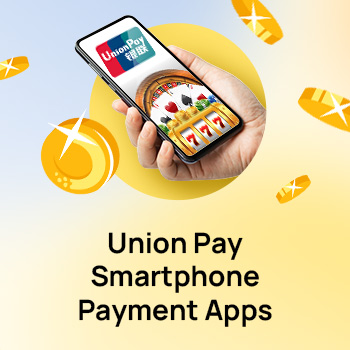 Union Pay Smartphone Payment App
The Union Pay app is a product of a collaboration between commercial banks, stakeholders in the industry and Union Pay. The app provides secure and easy transactions for gamers at sweepstakes casinos and across other online banking businesses.
Regarding security, the Union Pay app applies top-notch risk management systems and encryption techniques to safeguard users' details. The most useful feature of the app is that it is a one-stop-shop payment app to link all your bank accounts and manage them effectively. Here are some other mobile payment offerings that players get access to on this payment channel:
Card-not-present payment
Transit QR code
Mobile Transfer
Mobile QuickPass
Furthermore, this payment app is very easy to download and activate. Simply scan the relevant QR code to download the app on your mobile device. The next step is registration, which requires phone number verification. Afterward, you can add your credit and debit cards to the app by entering your card details. With Union Pay, you can focus on playing slots, blackjack and roulette games while managing your payments in a single place.
How To Purchase Gold Coins Using Union Pay
Let's start by establishing the concept of sweepstakes casino purchases. These social casinos do not accept real money bets. Instead, players can only purchase Gold Coins and use them for games that come without financial consequences. Sweeps Coins are offered as a side perk of your purchase but cannot be bought directly. However, every coin package you purchase will often net you a combination of Gold and Sweeps Coins.
Making a purchase with Union Pay starts with creating an account, which you can do by downloading the Union Pay mobile app. The next steps are simple to follow:
Choose a gaming platform that supports Union Pay.
Proceed to the banking section and select Union Pay from the payment options.
Choose the Gold Coins package you want to purchase and click on 'Submit.' A pop-up page will prompt you to log into your Union Pay account. This is where you'll confirm the transaction.
Upon completion of the payment, the platform will redirect you to the sweepstakes casino. These transactions are instant and will reflect in your social casino account immediately.
How To Redeem Sweeps Coins For Real Prizes Using Union Pay
Currently, the Union Pay app does not support prize redemption on many gaming platforms. Fortunately, at the few casinos where Union Pay does allow withdrawals, the process is straightforward:
Head to your profile section to access the option of redeeming prizes.
Check that your Sweeps Coin balance meets the stipulated threshold. These casinos only allow withdrawal when you've accumulated a certain number of redeemable coins.
Input the value and click 'Redeem.'
If you've used Union Pay to purchase coins on the site, your prize will be automatically processed back to the same method. Otherwise, you will need to select Union Pay from the payment options provided and enter your credentials from scratch.
Verify Your Account
Union Pay is a China-based payment platform operating under a license from the Tajik Central Bank. Like every other reputable licensing body, it mandates verification as a security measure. When signing up with Union Pay, you'll need to confirm your mobile phone number.
The top sweepstakes Union Pay sites will also require you to verify your identity before you make purchases or redeem prizes. The casino may also require phone verification, but KYC procedures demand that players submit some documentation to confirm their identities.
One or more of the following will suffice:
Driver's license
Passport
National identity card
Utility bill
Bank statement
This verification process might take some time, but it goes a long way in securing these gaming platforms. It also protects against identity theft and other types of scams perpetrated online. After verifying your account, you'll have full access to all the casino has to offer.
Union Pay Redeem Processing Time
Several factors influence the speed of the prize redemption processing time. One of the most vital is verification, especially for first-time redemption. The length of time for verification depends on the online casino, not Union Pay. Where players must submit different documents, prize redemption might take a couple of business days.
The processing time may take even longer if you've won large amounts and wish to withdraw. Additional KYC procedures are necessary for larger amounts. Also, these gaming platforms have daily withdrawal limits and will only allow one prize redemption request per 24 hours, so you may need to claim your prizes in batches over several days.
Union Pay As A Purchase Method
Surprisingly, Union Pay launched its services in a country where online gambling is illegal and Chinese residents can only access it with VPNs. Nonetheless, this payment channel quickly surged in popularity for gamers in the diaspora. A significant draw is that Union Pay deposits are free of charge for customers. However, this payment vendor taxes the merchants, who may sometimes pass the burden onto customers.
As this payment system is a union of several banking providers, there are no lower or upper limits, so players can opt for Gold Coins packages of any size. Union Pay is also an excellent mobile payment system for gaming. Its mobile features allow payments with just QR codes, mobile QuickPass, one-click transfers, etc.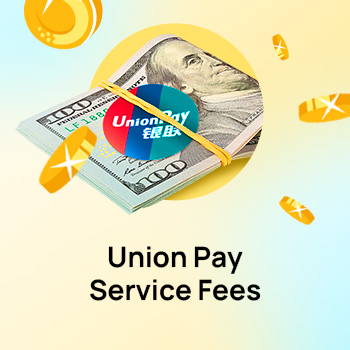 Union Pay Service Charges
Players love winning prizes at sweepstakes casinos, and incurring service charges can sometimes dampen the fun. Union Pay is an excellent payment option in this regard since purchases are instant and free of charge.
On the other hand, cash prize redemptions might come with specific fees imposed by the casinos. Make sure to check the casino's terms of service to find out about these fees. Note that using special Union Pay features, such as cardless payment and QR transactions, might also attract extra fees.
Inactivity Fee
An inactivity fee is a service charge for accounts that have been dormant for an extended time. One of the reasons why payment channels impose an inactivity fee is to encourage continuous usage. Besides, operators incur running costs for online accounts. As a result, a service fee is necessary when the inactivity goes beyond a certain period. Sweepstakes casinos will often charge a small amount per year.
Purchase Fee
Union Pay brings a lot of convenience to mobile gaming, especially regarding fees. Unlike some gaming platforms, Union Pay does not charge players for purchasing a Gold Coin package. The absence of this purchase fee does not reduce the quality of these transactions in any way. This payment option still provides some of the quickest and most secure purchases. Sometimes, Union Pay rewards players with bonuses for using the service to make purchases, so players do not only transact for free but get more value for each purchase.
Redeeming Fee
Union Pay is not always available for redemptions, but as an international payment service, there may be an associated cost for withdrawals. The value of the redemption fee depends on several factors, such as:
Country of residence
Local laws
Tax policies
The individual sweepstakes casino
You'll find details of this fee in the payment section. Just before redeeming a prize, the applicable fee will be revealed and added to the total cost of the transaction.
Union Pay Support
The best sweepstakes casinos that accept Union Pay have reliable customer service, which you can reach via email or a contact form on the casino site. As a top payment channel, Union Pay also has a support system with agents available around the clock through telephone, email, or live chat. A FAQ section is available for self-help.
Another unique form of support from this payment service is the Union Pay Card Emergency Services. This provides essential support in the following regard:
Emergency card replacement
Emergency cash service
Support is available 24/7 when playing at Union Pay sweepstakes casinos. For players who enjoy gaming at odd hours, help is always around the corner.
Union Pay Sweepstakes Casinos
4.2
Published on 15 Sep, 2023
Union Pay is a payment channel that allows you to do this with the utmost flexibility, convenience, and security. Union Pay purchases are very straightforward, with no fees.
Where available for redemptions, you can also count on this payment processor with flexible fees. Union Pay sweepstakes casinos are not very common now but are growing in popularity.
In the meantime, US players can access other popular payment alternatives like Mastercard, Visa, American Express, PayPal and even cryptocurrencies.
Jonathan Hill

Review Author
No, not all sweepstakes casinos accept Union Pay for transactions. You can check the payment section of the platform to view the options available before you join in. You can also refer to our list of casinos.
No, Global Poker does not provide Union Pay as a payment option. Players can transact with other quality alternatives like MasterCard, Prepaid card, ACH, Skrill, etc.
Chumba Casino does not accept Union Pay for purchases or redemptions. Only credit cards, debit cards, Skrill, and ACH are available.
Funding your Union Pay is very easy. You can do this directly from your bank account or using your credit/debit card.
Several reliable social casinos allow Union Pay for payment. Be sure to check our reviews to learn more about the games, bonuses and other offerings of each one. This way, you can decide which site is best for your needs.
Yes, Union Pay has several security measures and encryption techniques to safeguard players' details and transactions. The provider uses 3D secure protection for an added layer of cardholder authentication.
Purchases are free at Union Pay sweepstakes casinos, but redemptions may attract a small charge.
Unlock casino offers!
By subscribing, I confirm that I am over 18 and a resident of the United States of America.
I agree to Sweepstakescasino.net's Terms of Use and Privacy Policy.